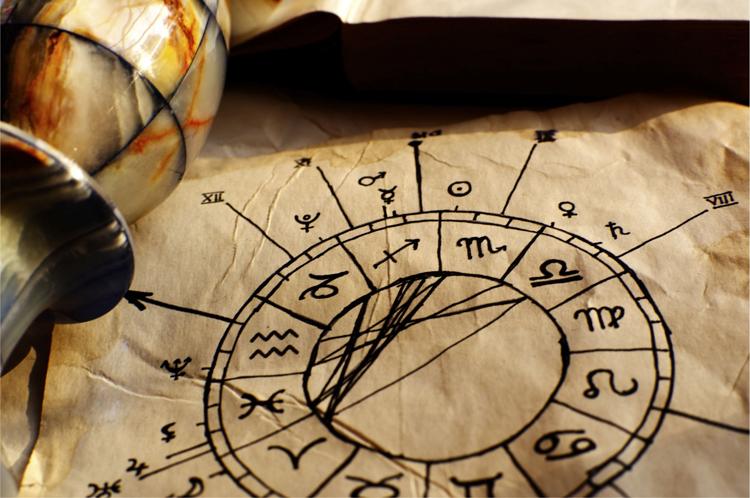 February Horoscope Predictions, Courtesy of Edelwyn
Aries (March 21 - Apr. 19)
Your patron planet Mars is moving into the realm of Capricorn this month. Capricorn is the sign of organization and pragmatism, two qualities with which a classic Aries can struggle, so this is your month.
In February, you will feel more goal-oriented than ever. Take your Aries bravery and pursue your biggest dreams. Nothing can hold you back -- see your plans come to fruition.
Taurus (Apr. 20 - May 20)
Venus, the guardian of the Taurus sign, is in Aquarius this month. This is a time to be yourself even if it is challenging to others.
The new moon will be in your tenth house, giving you the energy to make changes and leave your comfort zone. Charge through obstacles and redefine yourself!
Gemini (May 21 - June 20)
The Virgo full moon will be in your house of family this month, while Mars will be in the area of your chart related to passion.
This is a time of upheaval, but you can see it through if you remain honest about your needs. Thanks to Virgo, you will also be able to clearly define what you expect from those that are closest to you.
Cancer (June 21 - Jul. 22)
Mars is in the relationship house of Cancer this month, giving you the strength that you need to ask for change. At the same time, Saturn is in retrograde this month, allowing you to finally nurture your fragile inner self.
Cancers fear rejection above all else. Mars brings you the chance to stand up for yourself. This month you will see what you need and have the voice to demand it without apology.
Leo (Jul. 23 - Aug. 22)
Your guardian planet, the Sun, will move into Pisces on February 18. This allows you to make unprecedented connections with others. Be honest about your needs and what you are willing to give, as this month may set a long-term tone for many of your relationships.
At the same time, the planet of love Venus will be in your seventh house. It's time to think about what you value in relationships.
Virgo (Aug. 23 - Sept. 22)
Known for their steely backbones and sharp tongues, Virgos will show a new and softer side this month. Venus moves into Pisces this month, allowing you to finally go with the flow in the most challenging aspects of your relationships.
As the Virgo Full Moon approaches on February 23, let go of your need to control and finally trust in your loved ones.
Libra (Sept. 23 - Oct. 22)
Your signature planet Venus is leaving Capricorn and entering Aquarius. Now is the time to let your inner eccentric take the reigns. An old friend who challenges your preconceived notions will present early in the month.
Look at how you are relating with the people around you. Does your life offer the right balance, or is it time to think outside the box?
Scorpio (Oct. 23 - Nov. 21)
Mars, a planet long associated with Scorpio, moves into the house of Capricorn early this February. This brings the practical nature of Capricorn to your notorious intensity. With this combination, you can climb any mountain and conquer any challenge.
At the same time, the presence of the Sun in Aquarius will leave you feeling that the foundations are shifting. Leave your self-imposed limits and emotional baggage behind.
Sagittarius (Nov. 22 - Dec. 21)
Jupiter begins a retrograde movement this February, leaving the Sagittarius sign feeling stagnant and stale. You may begin to wonder about your future and your purpose. Is this the life you are meant to live?
At the same time, you will be feeling more introspective than usual. Look inside yourself to find the answers to the deep questions that keep you awake.
Capricorn (Dec. 22 - Jan. 19)
Mars moves into your sign on February 6, giving you a burst of energy and drive. It is time to find your passions and pursue them relentlessly. Nothing can stop you this month.
However, it is important to be aware of your effects on others as you make these dramatic changes. Be sure that you have consensus and are listening to your loved ones as you blaze this new path.
Aquarius (Jan. 20 - Feb. 18)
This is a big month for Aquarians. Venus moves into your sign on February 2, followed by a new moon on February 8. This will bring you new love interests in the form of new friends and new passions. At the same time, it is time to renew your life and find new ways of interacting with the world.
Aquarius is an eccentric sign that marches to the beat of its own drum. You will be marching to a new beat this month, one that may help you move forward to uncharted lands.
Pisces (Feb. 19 - Mar. 20)
Jupiter, one of your signature planets, begins a four month retrograde on the first of this month. As a result, you may feel unsettled. Your normally introverted nature will be stronger than usual, leaving you deep in contemplation for much of the month. As the sun returns to Pisces in the middle of the month, you will find your answers and feel ready to leave your cocoon.
Your intuitive side is stronger than ever. This can attract people at a time when you want mainly your own company. Be ready to fight for your own space and to take the time you need without any apology.