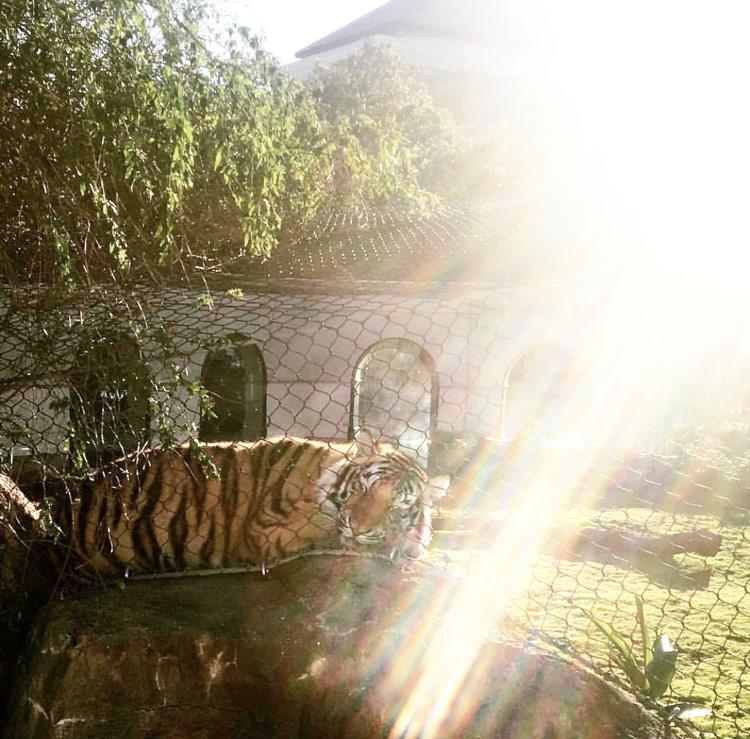 Each month is a different "awareness" month, if not two or three. November is no different and while I'm sure there are several others, Pet Cancer Awareness Month caught my attention. 
I dug up an ode to Mike VI I wrote shortly after his passing, when I was still a student at LSU. I decided to share it in honor of Mike VI and to help raise awareness about Geaux Pink Tigers Fundraising. It is crowdfunding campaign by the LSU School of Veterinary Medicine to fund research of pet cancers and assist in the costs of caring for animals in cancer treatment programs. 
The sun is beating and just when you can't stand it anymore a breeze rolls through, perfect basking weather for a tiger. But today there is no tiger. 
There are Christ candles, tiger striped balloons, stuffed tigers, hand painted coasters and miniature pumpkins, but no tiger. 
Sheets of computer paper, cards, posters, and flowers adorn the fence surrounding Mike VI's habitat. Some notes are tightly folded and paper clipped to the fence. 
Others are taped open and flap as the breeze rolls through. Some are simply set at the bottom of the fence line and secured from the wind by a candle. 
A promise to kick Bama's ass sits above a paper with green bubble letters of various sizes that read, "M64L." A few notes look more like essays, while another simply has, "RIP big fella," written slanted in scratchy black and purple marker. Sports fans, sororities, professors, children, and everyone in between have left notes in Mike VI's honor. You don't have to be a sports or even an LSU fan to be a Mike VI fan. 
Visitors bend and stoop and stretch trying to read every profession of love and memory left to blow in the breeze. A blonde with LSU Nike shorts rolls by on her long board. She pushes her sunglasses from her face into her hair and hops off of her board. She stands away from the fence and squints at a section of the paper-filled fence for a minute then gives her board a push and she's gone. 
The yellow rope swing in his habitat remains idle, not even pushed by the occasional breeze. The water in the pool is still. The left corner of the cage, where Mike VI would usually bask on a sunny and breezy day, is an empty patch of grass. 
The perfect meeting spot, the best place to sit and forget about the midterm you just failed and the easiest way to babysit is now a solemn vigil. 
The flowers are wilting, the balloons are deflating, and the stuffed animals are beginning to smell of mildew. Two rolled up sheets of paper tumble over the bricks, no one bothering to pick them up. The notes will be collected and the flowers thrown away, but the strong will and fearless spirit of Mike VI will live on in the hearts and memories of his friends forever. 
I hope this ode elicited your own fond memories of Mike VI. If you'd like to donate to Geaux Pink Tigers visit https://launch.lsu.edu/?cfpage=project&project_id=23267&t=1541452137.