A few weeks ago I decided to take a walk on the Heritage Trail on the levee in West Baton Rouge Parish.    I usually walk about 4-5 miles five to six days per week.  As I climbed the levee to start my walk I was struck by the beautiful weather that day.  I took a deep breath of nature's fresh air, immediately felt an adrenaline rush, and knew this was going to be a great walk.
On a whim, I decided to walk to the Mississippi River on a familiar path and veered to the right to check out some deep ponds in the area.  As I looked across this particular pond, I observed a giant alligator on a small island.  This alligator had to be twelve feet long and his body almost completely covered the island.   I moved closer to the alligator and pulled out my cell phone to take a picture of it.  When the alligator saw me, he slid off the little island and began swimming toward me.  This was my que to haul butt out of there and return to the top of the levee.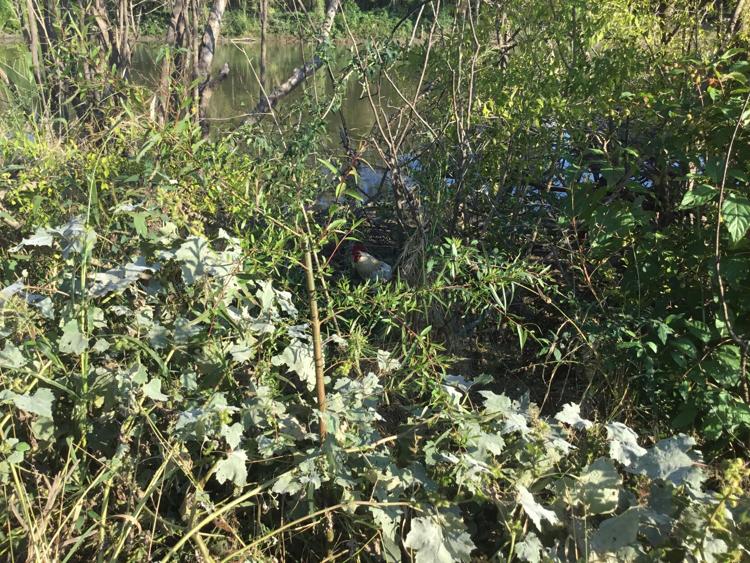 As I continued my walk on top of the levee, I heard a weird crowing sound that sounded a lot like a rooster.  The sound was coming from the bottom of the levee in the area between the levee and the Mississippi River.  To my utter amazement I saw a little white rooster strutting around, crowing!  I scratched my head in disbelief and again pulled out my cell phone to take a picture, because nobody would believe me if I told them this story.
I walked to the top of the levee and resumed my walk.  I could never imagine seeing a rooster and alligator on one walk, in a very short period of time.    It reminded me of the wonderful creations of nature that I could observe in just one morning.  However, the story does not end here.
Later that day I returned to place where I saw the little white rooster earlier that morning.  I was sure he would be gone.  But to my surprise he was in the same area and apparently started a temporary home in the high bushes and fallen trees near the water.   As soon as he saw me he returned to the security of his home.  I brought some corn and oats which I threw into his home.  As I peaked in, he immediately started to feed on the grain.  I tried to contact prospective area owners of the rooster to no avail!
I continued the ritual of feeding the rooster every few days for about three weeks.  He would never let me get close to him, but I could always observe him eating the grain.  He stayed in the same spot every time I visited him.   I wondered how long he could survive in the area where so many predators lived.   I had made up my mind that on this day I would try to catch the rooster and bring him to safety.  As I approached the rooster's temporary home, I observed white feathers, shot gun shells, and plastic bags strewn across the area.  As I looked closer, I was horrified to see the little white rooster dead on the ground.  As I left the area that day, I thought about all of the beautiful creations of nature and sadly how this little white rooster had met its fate.
I am constantly reminded of how Mother Nature seeks balance and equilibrium for all of its creations and establishes rules to insure it.  I believe that what goes around always comes around.  So what happens if one day, the rooster has the guns and bullets, what will we do then?