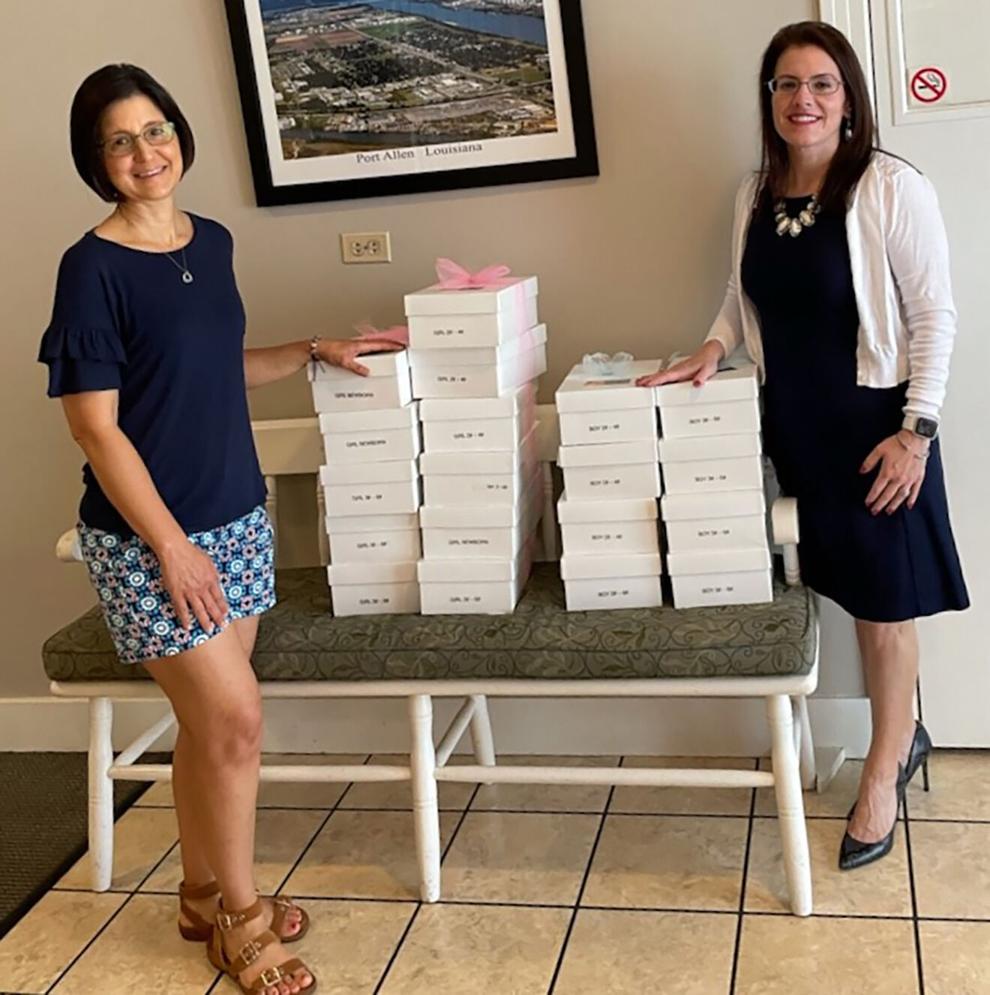 The Born With Angel Wings ministry is proud to announce that due to increased participation by its volunteers, it is now able to offer Angel Boxes to funeral homes in the area.  These beautiful boxes are offered free of charge to grieving parents who lose a baby before, at, or shortly after birth.  Each box contains a burial gown, many made from donated wedding gowns, blanket, hat, booties, diapers, mommy-baby bracelet set, cross bookmark, locket-of-hair bag, kleenex, photo album, journal, forget-me-not seeds, stuffed animal, & a book on grieving.  The ministry is a non-profit and operates strictly on donations, with volunteers using their God-given talents to create handmade items for the boxes. 
The focus of the WBR chapter during April and May has been on collecting items and assembling them in boxes for delivery to the funeral homes.  The first delivery went to Wilbert Funeral Home for their locations in Port Allen and Plaquemine.  More deliveries to other funeral homes are planned for the coming weeks.
In order to prepare the Angel Boxes for delivery, items were collected from the many volunteers who make them and a workday was held at the KC Hall in Port Allen.  Several WBR volunteers gathered to assemble approximately 100 boxes under the guidance of Anne and Cliff Ancelet, founders of Born with Angel Wings.  The volunteers who helped with this project were Metha Arnold, Colleen Martin, Toni Brantley, Ruth Stanley, KK Blanchard, Michelle Cagle and Cheryl Tassin.
Anne & Cliff Ancelet would like to thank the Knights of Columbus for the use of their hall. They would also like the community to know that an Angel Box can be requested directly from them if a family does not have access to one from a hospital or funeral home. Contact information can be found on the Born With Angel Wings Facebook page or at bornwithangelwings.com.
Anyone interested in volunteering or making a donation are asked to send a message through the Facebook page.   Anne Ancelet often says that it takes a village to dress the baby angels for Heaven.  West Baton Rouge has an amazing village of volunteers who work tirelessly and generously toward this end.  
Offers to donate wedding gowns are appreciated, but are still not being accepted at this time due to covid.