Port Allen native, FBI special agent discusses cracking the Clementine Hunter forgery case
For four decades, a Louisiana couple and New Orleans art dealer defrauded hundreds of people by forging Clementine Hunter paintings. Finding the unknown forger became the first art crime assignment of Port Allen native and FBI special agent Randolph J. Deaton, IV.
Deaton is not an art expert or historian, but he does watch a lot of Antique Road Show. Enough to convince First Assistant U.S. Attorney Alexander Van Hook to task him with finding the unnamed Hunter Clementine forger. 
Deaton recalled the now-famous forgery case's remarkable details during a lecture at the West Baton Rouge Museum on Tuesday, Sept. 15. 
A previous arrest, a 1996 scandal at a Baton Rouge auction house and a large amount of cat hair are among the details Deaton and his team picked up that helped solve the case. 
For the love of folk art 
Hunter, a renowned folk artist from Cane River, Louisiana is known for her colorful depictions of life in the small Natchitoches town. She was an active painter starting in the 1930s through the 80s. She painted what she saw - baptisms, cotton picking, rowdy honky-tonks and zinnias. Hunter's rare Christmas tree paintings command more than $30,000 at auctions. 
Some people look at her paintings and think their children could do the same work. Others consider those small canvas paintings their most prized possessions.  
"There are people who don't care about folk art, and there are people who would go to their grave for folk art," Deaton said. 
In the 1990s, years after she died, hundreds of Hunter paintings appeared on the market. Some were tableaus, larger paintings about the size of an over-the-door mirror that collectors had never seen before. It seemed odd, but it wasn't until a group of people realized the paintings they purchased were fakes for the case to open in 2008. 
The two-year-long investigation by Deaton and several others revealed William Toye, of Baton Rouge, forged nearly 500 Clementine Hunter paintings. With the help of his wife Beryl and Robert E. Lucky, a New Orleans art dealer, the three defrauded people out of thousands of dollars. In some cases, people spent their retirement savings and children's college funds on paintings they later found out were worth a fraction of the thousands they paid for them. 
Toye was first suspected of forgery in the 1970s when New Orleans police confiscated 22 of his fake Clementine Hunter paintings. The New Orleans District Attorney dismissed the case. Their fraud continued unabated until 1996 when the FBI opened an investigation into forged Degas and Henri Matisse paintings sold at the Louisiana Auction Exchange in Baton Rouge. Those paintings were owned by Dr. W. Geoffrey Toye, one of William Toye's numerous aliases. Again, no charges were filed, and the fraud continued. 
Third time is a charge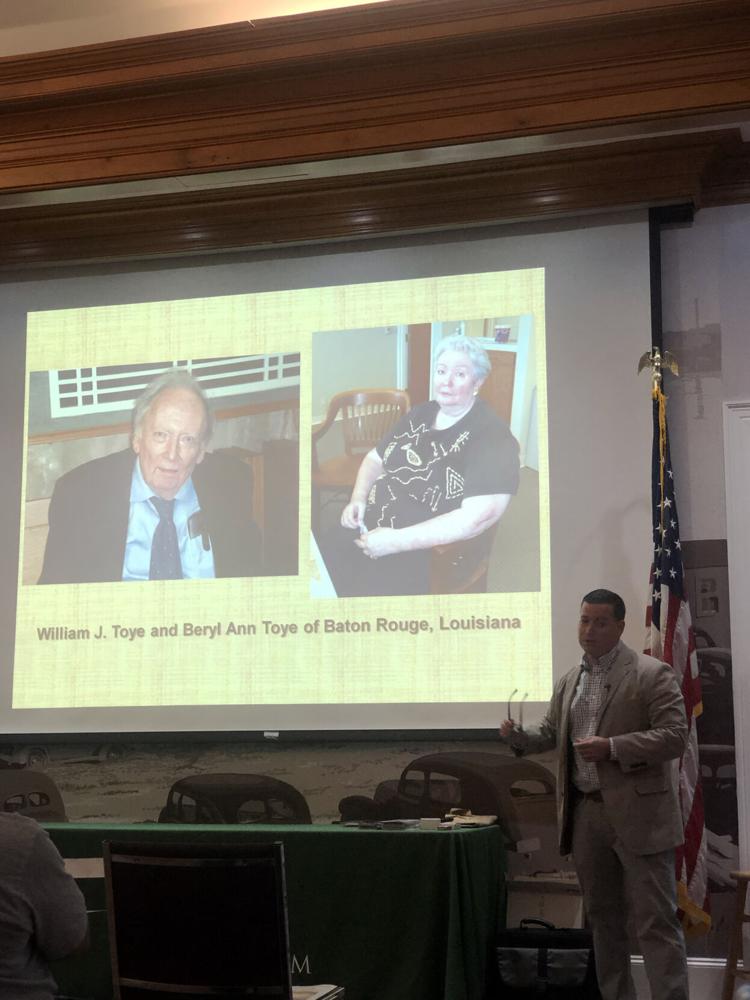 Deaton dove into the case, studying Hunter's paintings and talking to collectors and victims of the then-unnamed forger's fraud. 
After developing a file on the Toye's through extensive research, Deaton secured a warrant for their Baton Rouge residence in September 2009. During the day-long raid, more than a dozen officers scoured the Toye's home. The property was in disarray and overrun by more than 20 cats. 
Authorities found countless documents, boxes full of art supplies and five paintings that looked very similar to famous Hunter paintings. During the initial interview, William Toye cast all blame on his wife. He quickly changed his story and offered a full confession to Deaton. 
Evidence found in the home included forged documents to "prove" provenance of the fake paintings. William Toye revealed he rubbed dirt on paintings to artificially age them, among other tactics. 
An FBI crime lab in Natchitoches compared known Hunter paintings to those sold by the Toyes and Lucky and found dozens of inconsistencies. Most notably, all of the paintings by William Toye had cat hair embedded in the paint. 
With the evidence mounting against them, William, then 80 and Beryl Toye, 70, pleaded guilty in 2010. They were sentenced to two years of probation. Beryl's sentence included in-house confinement. In a rare move, likely due to the public's fascination with the case, Judge Dee Drell ordered William Toye to sign fake paintings as requested by victims of his scheme. 
Following sentencing, Deaton loaded 40 of the paintings in his car and watched patiently as Toye signed each one in a Baton Rouge nursing home. 
Lucky, then 64, was sentenced to 25 months in federal prison. 
Deaton travels the world sharing the story of the Clementine Hunter forgery case, which has been the topic of magazine articles and podcasts. In 2016, he joined the FBI's Rapid Deployment Art Crimes Team. He is one of 25 agents in the United States serving on the team, which investigates everything from art forgeries to stolen sports collectibles. 
"If someone steals Nick Saban's championship ring, I'd be the one to have to go over there and talk to him," Deaton said. 
The Clementine Hunter forgery case garnered national media coverage and fascinated viewers with its strange twists and turns. On Saturday mornings, Deaton fixes a cup of coffee and flips through files and searches the web "just to see if I can find something I missed." 
---
Want to learn more about the case? Check out this 2018 article in Country Roads Magazine.