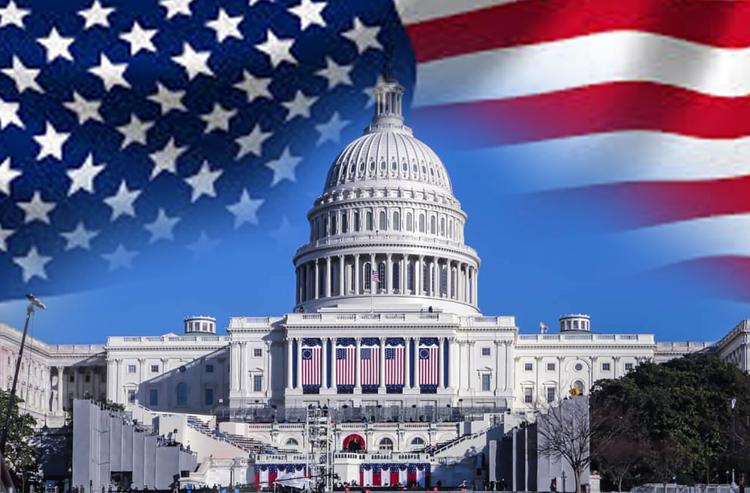 Every four years, citizens of the United States have the opportunity to vote for the highest office in the country — the President of the United States. 
American presidents are limited to two four-year terms. Franklin Delano Roosevelt is the only president to ever serve more than two terms. The 22nd Amendment to the United States Constitution says a person can only be elected president twice. That amendment was approved by Congress on March 21, 1947, and was ratified by the states on February 27, 1951. 
Since the 1981 inauguration of President Ronald Reagan, the ceremony has taken place at the west front of the United States Capitol building facing the National Mall. The only constitutional requirement for the inauguration is the president takes his oath of office. The remainder of the proceedings are about tradition, but they are not a requirement. According to ABC News, the Bible is not a requirement for Oath of Office, nor is having a Chief of Justice administer the oath. But such components makes for a dramatic showcase.  
Traditionally, the outgoing president takes part in the ceremony. To date, only three outgoing presidents have refused to accompany the president-elect: John Adams, John Quincy Adams and Andrew Johnson.
The president will give an inaugural address after being sworn in. Parades also occur after the inauguration, and a lavish Inauguration Ball is held in honor of the new president.
The inauguration of the president on January 20, 2021 stands to be a memorable event after such a whirlwind campaign season and election day. It may call to mind some other iconic moments in inaugural history. 
• Ulysses S. Grant requested live birds at his inaugural ball. The day was very cold and the birds ended up freezing to death.
• At the inauguration of Herbert Hoover, outgoing First Lady Grace Coolidge and incoming First Lady Lou Henry Hoover got lost in the Capitol building and delayed the ceremony for 30 minutes.
• Lyndon Johnson took the oath aboard Air Force One after the shocking assassination of President John F. Kennedy in 1963. The judge administering the oath was a woman, and she was the first and only female judge to swear in a U.S. President.
• When Barack Obama was sworn in, he became the first African American individual to take the office.
Inauguration Day is a momentous occasion for United States citizens, and it's a day with a rich and interesting history.