Seventh-graders at Holy Family School competed at the Regional Social Studies Fair on Saturday, Jan. 26 for the first time in many years. Blake Weber placed second in the competition with his project on the Vietnam War and will advance to the State Social Fair.
Weber advanced to the regional competition after placing first at the Holy Family Social Studies Fair held on Jan. 11. Weber's American History teacher Pat Crocker said Blake was extremely deserving of the recognition.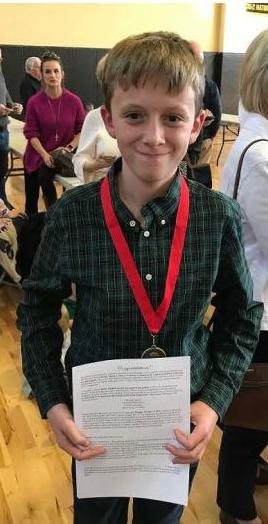 "Blake is such a fine young man," Crocker said. "His presentation and ability to articulate to the judges his research on the Vietnam War allowed him to advance in the competition to the state level."
The LSU Lab School hosted more than 80 students from various private and public schools in and around the Baton Rouge area for the Regional Fair.
Nine Holy Family students competed in Division II at the Regional Fair where they presented a three-minute oral presentation and a written report on their topic.
Their projects included topics such as the History of Softball, Louisiana's Contribution to World War II, Mexican Culture, The History of Baseball, Nineties Seattle: The Grunge Era, Toledo Bend and The Axeman of New Orleans.
Webre and other winners from the regional competition will advance to the State Social Studies Fair in Lake Charles on Friday, March 1 at McNeese University.