Independence Day is almost here! After a long year of great changes, many of us will have the opportunity to celebrate with our dear ones this 4th of July. 
This has always been one of the celebrations that people, like me, in other countries and distant parts of the world, only know about through movies and TV shows. I remember watching my favorite TV shows, seeing the American flag and patriotic decorations in their beautiful homes while people gathered, eating all these American foods like hot dogs and hamburgers, and the desserts were always red, white and blue. My favorite part was that they usually ended their day watching fireworks. 
Though some of these things are a part of celebrations in other countries, I always thought that Americans were especially proud of their culture, which is why there was always an episode in TV shows where they celebrated Independence Day. 
This year, I am especially excited, because it will be my first-year celebrating as a citizen of this wonderful nation! I am thankful for the freedom, the diversity of cultures, and the wonderful people that have become my friends and family over the years and my American family. I am also conscious of the responsibilities of honoring this land and leaving a legacy that shows respect to those who have sacrificed for the freedom and wellness of others. 
This year, West Baton Rouge will display the beautiful fireworks at the Mississippi River and I am excited to commemorate this special day with dear ones, now as much a part of the celebration as the TV shows I used to watch as a child. 
Today, I would like to share a simple recipe of my quick biscuits. I usually make them at home for breakfast over the weekend, but because they go well with many things, I believe they can be a delicious addition to your menu this 4th of July. They are easy to make and they will be ready in 15 minutes. You won't be disappointed! 
Happy 4th of July
everyone!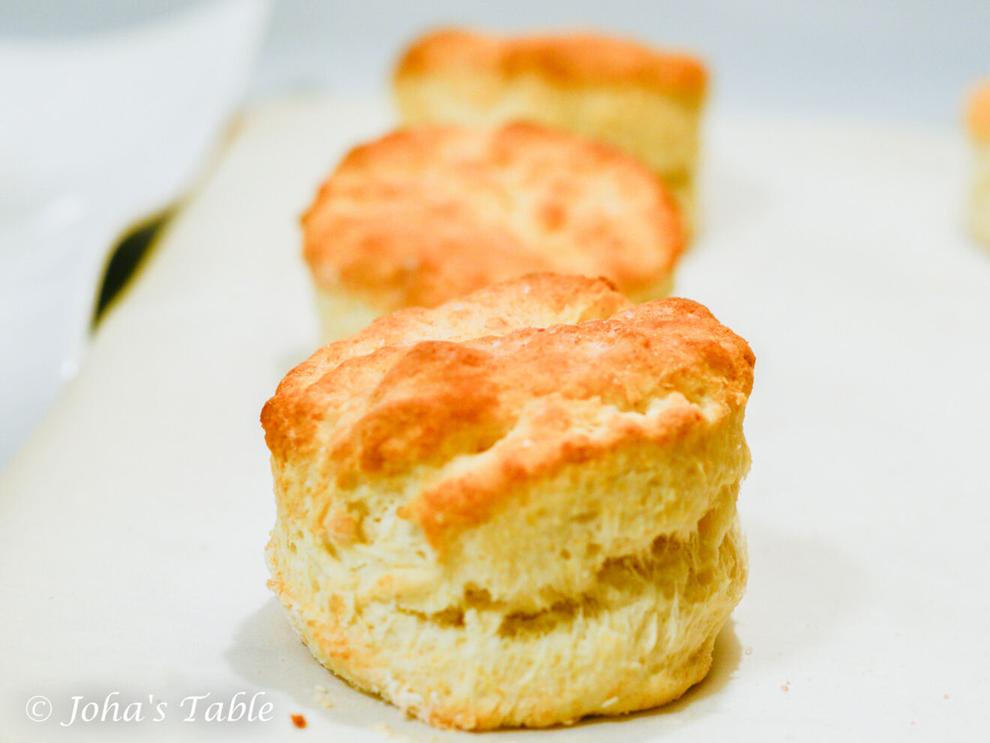 Biscuits
INGREDIENTS: 
3 cups - all-purpose flour
4 Tbsp - sugar 
4 Tbsp - baking powder
1/2 tsp - salt
3/4 cup - cold butter (as cold as possible cut in small pieces)
1 Tbsp - lime juice or vinegar
1 cup - cold milk or cold butter milk (if using butter milk don't need to add lime juice) 
1 egg 
INSTRUCTIONS: 
1. Preheat the oven to 450°F. 
2. Mix dry ingredients: (flour, sugar, baking powder, salt). Mix well with a fork.
3. Add the pieces of butter with a pastry cutter (if you don't have pastry cutter use a fork, or your hands) to mix the butter with the flour. 
If using your hands, work the butter into the flour squeezing the ingredients between your fingers to break up a little bit the butter - not too much! We want the little chucks in the dough - work fast to avoid the butter melting.
4. Add the egg and milk, and mix until it starts feeling sticky. 
5. On a clean surface, sprinkle some flour and place the dough. Sprinkle some more flour on top of the dough, to avoid it sticking to your fingers, and flatten it to a thick layer of about 1 inch. 
6. Using a biscuit cutter (or a drinkware) cut circles in the dough. Depending on the size of your cup it would make between 8-12 biscuits. 
7. Place the biscuits on a greased baking sheet and bake for about 10 minutes, or when the top is golden brown. 
8. Take them out and serve with butter! 
Enjoy!