I'm a city girl.I lived in Mexico City, the city with the largest population in the world, during my teen years through early adulthood.
When I tell a person where I'm from, they often visualize a small town with hot weather, cacti, donkeys, and barefoot kids playing soccer. And while that is the reality of many cute small towns and villages in different regions of Mexico, that is far from what my city looks like.
My monster of a hometown is a city that truly never sleeps. With beautiful new buildings popping up everywhere, blending historical architecture with new and modern, it's a place where history emerges from the ground and deliciously diverse street foods are available for any budget and preference.
It's a city with 30 million people - that's about six times the population of the entire state of Louisiana - that can be a little messy at times, has terrible traffic during peak hours, but the cool weather, typical of a valley, is a dream.
My mom, grandma and aunties would never buy fruits and vegetables from supermarkets, as it is known that tianguis – or open-air markets – are fresher, healthier, and cheaper (not to mention buying there supports local farmers).
Though I knew the value of fresh produce, the truth is that as a city girl, I had no idea how to grow them. Most people, like my family, live in apartments, so there's not much space or time for gardening. It wasn't until I moved to Baton Rouge that I started learning about gardening and understanding the effort and satisfaction of eating food from my own yard.
The garden was one of the first projects my husband and I worked on together after getting married in 2016, and bore some beautiful fruit.
I remember cucumbers were some of the first veggies that grew from the garden that year. I was so excited when I plucked our first beautiful, ripe cucumbers! It was so fresh and delicious, just like the ones back home. Any gardener can attest, every vegetable that came from that garden gave me a different type of satisfaction. We worked for them.
During that hot Louisiana summer, I often took freshly picked cucumbers and made one of the most common traditional drinks from my city: Cucumber lemonade. It's a refreshing drink, that is a staple in my house during every summer we choose to grow a garden.
For the gardeners around West Baton Rouge harvesting so many cucumbers and desiring something a little bit different, try this recipe!
Cucumber Lemonade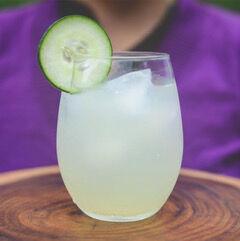 INGREDIENTS: 
2 cucumbers
5 limes (juice)
2 liters of water
sugar or sweetener of preference, to taste (optional)
INSTRUCTIONS:
1. Wash and peel cucumbers, cut them in half
2. Blend cucumber halves with a cup of water
3. Strain cucumber mix
4. Add sugar (or sweetener), lime juice and the rest of the water
5. Taste and adjust ingredients, add ice
Cheers!
Follow Joha's Table on Facebook, Instagram or on her blog - Johastable.com
Want to get in touch? Email Johastable@gmail.com.