My many trips to different parts of the world are marked by the memories of the morning aromas of traditional breakfasts. Breakfast is different in every nation, so sometimes the aromas are familiar, while other times, not at all.
I grew up in Venezuela, where breakfasts always included coffee, so my childhood was spent smelling the best coffee in the mornings along with Arepas and perico (scrambled eggs Venezuelan style). My family moved to Mexico in my adolescence, so I also have memories of the smell of café de olla. And, depending on the region of the country, included in a traditional Mexican breakfast would be a variation of scrambled eggs Mexican style or something like chilaquiles or tamales.
My mom always held true that breakfast is the most important meal of the day as she would often repeat the old adage, "Breakfast like a king; lunch like a prince; dinner like a pauper." So, when growing up, our breakfast usually had fruit with eggs and pancakes or cereal, and some sort of vegetable thrown into the mix for every meal of the day. 
I grew up thinking that my mom's choices for breakfast were "king style" just like she would often say, but I later discovered that different nations have a different concept of what a king eats.
Several years ago, during my first visit to China, I visited the city of Guangzhou, a crowded commercial city, full of lights and technology. The city is near Hong Kong, and you can actually take a train to get to the Island in a very short amount of time. During my days there, I was traveling with a group of Chinese–Singaporean friends, and we began to talk about, and try to understand what each other meant by, "breakfast." While I was thinking about coffee, eggs and bacon – American style breakfast – they were all thinking about a rice porridge, and a bowl of noodles. Because I was the minority in the group, we ended up having their breakfast, with tea instead of coffee. 
In the same way, my experiences of having breakfast have varied from the traditional Full English breakfast in the UK, to eggs cooked in delicious lamb fat and something called Za'atar Manakeesh in Lebanon, or prata and curry in India with a good chai. One of my favorite breakfast in the world was in Kenya, were we had "Mandazi," a type of Kenyan deep fried donut, for some reason, mandazi with tea became one of my favorite foods. What is your favorite breakfast food? 
As I think about breakfasts, I want to share one of my favorite simple, quick and super cute breakfast recipes with you all. They are called baked egg baskets. I hope you enjoy it and it helps you to start your mornings full of energy!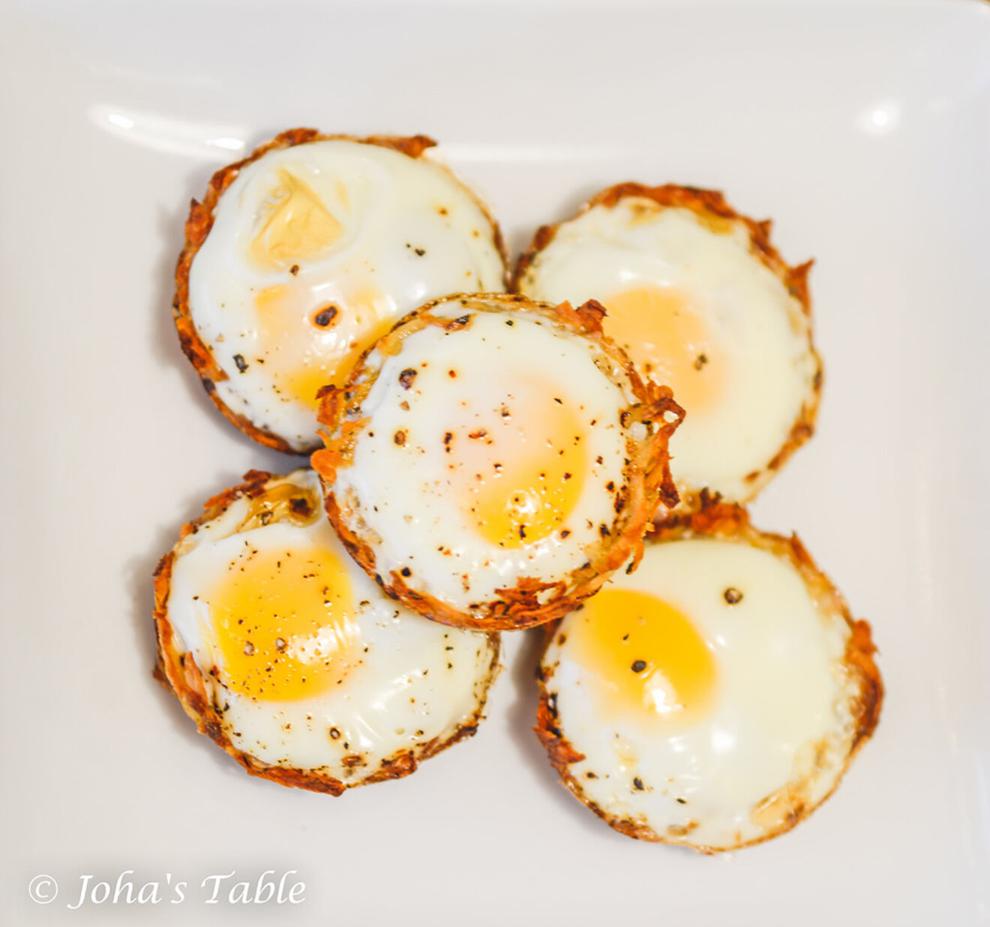 Egg basket (baked eggs)
(6 eggs)
INGREDIENTS: 
3 medium potatoes, peeled and shredded
6 eggs
A pinch of Paprika
A pinch of Basil
A pinch of Salt
A pinch of Pepper
½ Spoon of butter – or Spray butter 
INSTRUCTIONS: 
-Preheat oven to 375°.
-In a medium bowl mix the two shredded peeled potatoes, paprika, basil, salt and pepper. Let it sit for about 5 minutes, press the potatoes against the walls of the bowl and drain as much water as you can. 
-Spray a cupcake pan with non-stick spray (or butter), add the potato mix to the pan, pressing into bottom and up sides of the cup, pushing potatoes just above edge creating a basket. Bake for about 25 minutes (or until it is golden dark). 
-Once the potato mix looks golden, take the pan out and crack an egg into the potato basket, sprinkle some salt and pepper and bake for about 10 minutes.
-Remove from the oven and carefully remove the egg baskets from the pan. 
-Enjoy!