A few years ago, I had the opportunity to visit the United Kingdom with my mom and spend time with dear friends from the past: Jan and Peter Keevil.
 In the '70s, the Keevils left their home in the UK as missionaries, and moved to the city in Venezuela where my family is from. They loved and learned our culture and language; I admire their practical genuine love for people. 
 It was springtime during our visit and the weather was beautiful, so we visited London, Wales, and Cornwell County. No matter where we were in the country, our evenings always ended at home having a cup of tea.
 Tea time was my favorite time of the day! 
 During our first day, they offered us some bread buns to eat with our tea. My first bite was the perfect balance of sweetness and buttery-ness, yet incredibly light and fluffy. The texture was both soft and firm, and it didn't need anything added onto it. It was a magic pairing with the tea. 
That delicious bread was Brioche. 
 Every evening I looked forward to sipping tea with that exquisite bread. Now, I make my own at home, and every time I have a cup of tea with a piece of brioche, I remember the Keevil family with love and affection.
So, here is my Brioche recipe, I hope you enjoy making it!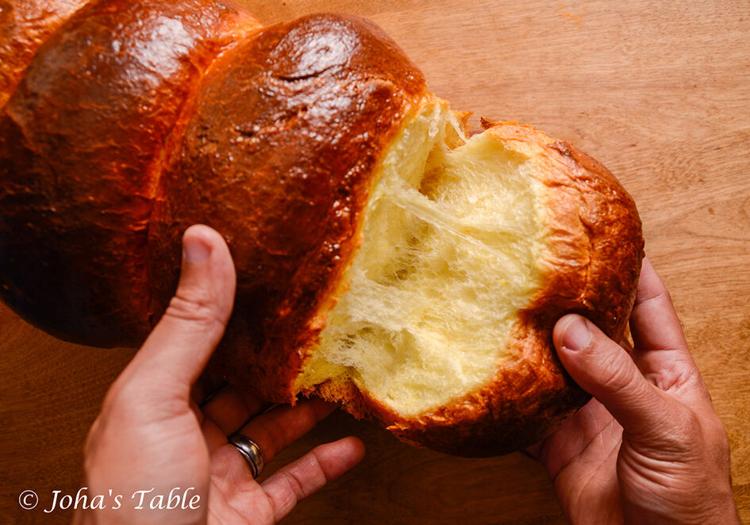 Brioche
(2 loaves)
INGREDIENTS:
4 cups of bread flour (500 gr)
6 eggs
2 1/4 sticks of cold butter chopped in pieces (250 gr) 
1 tsp of salt 
2/3 cups of sugar (100 gr)
1/2 cup of milk (100 gr)
15 gr fresh yeast [or 7 gr of dry yeast]
1/2 of one Lemon zest
1/2 of one orange zest
2 spoons of milk to wash the bread
INSTRUCTIONS: 
In your mixer bowl, add eggs, flour, salt, sugar, milk, yeast and lemon zest and orange zest. 
Stir well, or use the hook attachment and mix at medium speed for about 10-12 minutes. Don't bring the speed up! 
After about 4 minutes, while the dough is still wet but is starting to peel from the sides of the bowl, start adding the cold butter. Add it all, piece by piece, little by little. 
Keep mixing until dough no longer sticks to the sides of the bowl. 
Take a separate bowl and coat it with a little olive oil.
Transfer the dough to the oil coated bowl, cover with plastic. Let it rest about 8 hours (or overnight) in the refrigerator. 
After rising in refrigerator, divide the dough in two. Take one half out of the fridge. (Keep the other half stored in the refrigerator for up to 2 days with no problem, you can bake it fresh in a couple of days.)
Rest dough on the countertop for about 1 hour to allow it to reach room temperature. 
Turn the dough out onto a floured surface and fold in all the edges towards the middle, like forming a ball. 
Divide into 4 equal parts, forming smaller balls and fold in the edges towards the middle, and press them giving them a slightly cylindrical shape. Place them next to each other in a floured loaf pan.
Cover with a towel and let it proof (or rise) for 2-3 hours in a warm place.
Once your dough has risen, brush your bread with 2 teaspoons of milk. 
Set your oven at 390°F.
Before placing your bread into the oven, splash some water on the bottom of the oven (creating some steam). Immediately insert the dough.
Bake for about 30-35 minutes, or until golden brown.
 If your bread is browning too early - before it bakes completely - quickly cover with aluminum foil.
 After the set time, take the bread out of the oven and let it cool.
Brioche is the perfect bread paired with some fruit jam. It also makes an excellent French toast. But my favorite way to eat it is alone with some English tea!
Enjoy!