Fajitas are a popular dish from the border of Mexico and the United States, and I really love making them! They are a delicious and simple dinner option, and it reminds me of great friends as well as my first-time visiting Louisiana many years ago.
During my first visit to Louisiana, more than a decade ago, I visited West Baton Rouge. I was among a group of Mexican missionaries, and we planned a Mexican dinner as a fundraiser for our journey to Asia. We received so much love and support from people that we had just met. It was really heartwarming.
For the dinner, we had planned a full menu with many different Mexican dishes and sides. We wanted to make it extra special, and even hand-made tortillas for everyone who would come. During the preparations, my friend and I realized that we didn't have enough time to accomplish all our ambitious culinary goals on time. I had been marinating the chicken and beef for the fajitas since the night before, but I had forgotten to take them out to start cooking them! In that moment, another of our new friends, Chris, said that he could help cook the meats. He is a pretty good cook and knew about grilling meat, so he came to rescue us. 
Chris set up outside on the grill and prepared the meat for the fajitas. By the time people started making their way inside, everything was ready and the fajitas were a success! They were tender and had the perfect golden color and consistency, he really did an awesome job!
That day I learned two lessons. The first was to be open to receiving help, especially during crushing and daunting times. It is so wonderful to allow other people's talents to bless you, and others, in times of need.
The second lesson came from observing people during the dinner; they combined their foods in a way that was very different than I—as a Mexican woman from the heart of Mexico, in a city distant from the border—was used to. For example, adding cheddar cheese and sour cream to fajitas is something I wouldn't traditionally do. I would, instead, add lime, cilantro and salsa to the meat and veggies. I realized that day that our preference of ingredients didn't matter. At the end of the day, we all had a great time and enjoyed a delightful night in unity, enjoying a delicious meal together.
Fajitas are a simple, yet, delicious dish that can be enjoyed with many friends and family during any season of the year. And today, remembering good friends, I want to share one of my fajitas recipes with all of you.
Enjoy!
Joha's juicy
chicken fajitas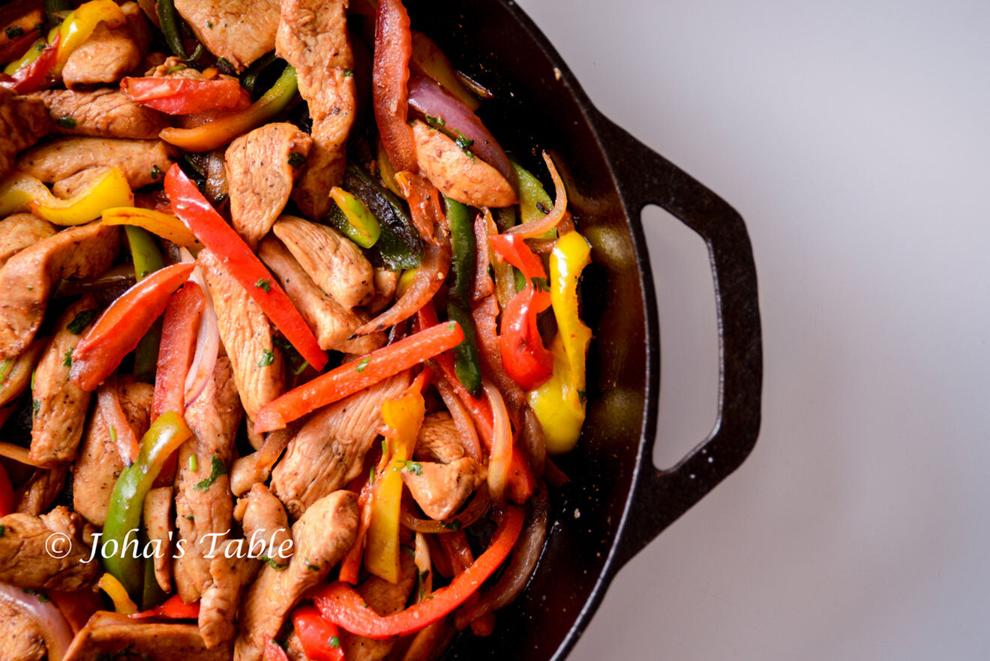 Ingredients: 
2 Chicken breasts, sliced in strips ¾ inch thick.
1/2 medium yellow or purple onion, julienned
5 bell peppers of different colors, julienned
2-3 serrano peppers, julienned (unseeded for less spiciness) 
1 garlic clove, finely chopped
2 Tablespoons of jugo Maggi (optional)*
2 Tablespoons of vegetable oil
A pinch of paprika
A pinch of cumin
Salt and pepper, to taste. 
Limes
Chopped cilantro
salsa
Tortillas
*Jugo Maggi, or Maggi Jugo seasoning sauce, is a seasoning that can be found in the international section of supermarkets or in an international store. It can be substituted by 1 tablespoon of Worcestershire sauce and 1 tablespoon of soy sauce. 
Instructions: 
1.Marinate chicken for at least 3 hours (I recommend overnight) in Jugo Maggi, garlic, salt and pepper.
2.In a large skillet, on medium-high heat cook the chicken through (until it is no longer pink). Remove any excess water with a spoon. Once the chicken is done, set aside. 
3.In the same skillet, using the juice left from the chicken, sauté onions until translucent, add peppers (bell and serrano), and other condiments (garlic, paprika, cumin, salt, pepper). Sauté for a few minutes until vegetables are desired consistency. I prefer to leave the bell peppers slightly crunchy. 
4.Add chicken back to the skillet and mix everything very well and turn off the heat. 
5.Serve with tortillas, lime, salsa and chopped cilantro. Fajitas pair well with red rice and refried beans. 
Enjoy!