During a recent lazy Sunday, I made a miniature charcuterie tray with crackers, salami and cheese … Suddenly I was reminded of the European trip I made with my mother.
   When I booked our room in Paris I chose the least expensive option, because we were traveling on a budget. But upon arrival, we were upgraded to a room with a view of the Eiffel Tower. I think it was just something about seeing a mother-daughter traveling duo that made them feel more generous.
   The hotel offered a wine and cheese tasting every evening.
I often hear people describe wine as acidic or fruity or nutty, but this was the first time I actually tasted those flavors for myself.
    In that time, I grew closer to my mom in an unexplainable way. We laughed, learned about other cultures and really got to know each other as adults … and all on a trip I wasn't supposed to be on.
    My father was supposed to go with mom, but due to unforeseen circumstances he was unable to go. So I got his ticket! It actually ended up working out for mom, because I was able to help navigate the different countries, as I speak English, Spanish, Italian, and studied French.
   At the University I attended in Mexico City, when studying a particular foreign language, we were thrust into the culture of that language. So, when I studied French, the class learned French cuisine along with language. During that French class, I cooked French cuisine for the first time.
  Though my French language skills have faded, I don't think I'll ever forget the meal my professor taught us to prepare.
   Coq au vin.
   Maybe because it was so delicious, but more likely, that meal is stamped in my memory because of the fun I had preparing it with my classmates.  
   So, I decided to share my Coq Au Vin recipe, remembering that delicious French meal.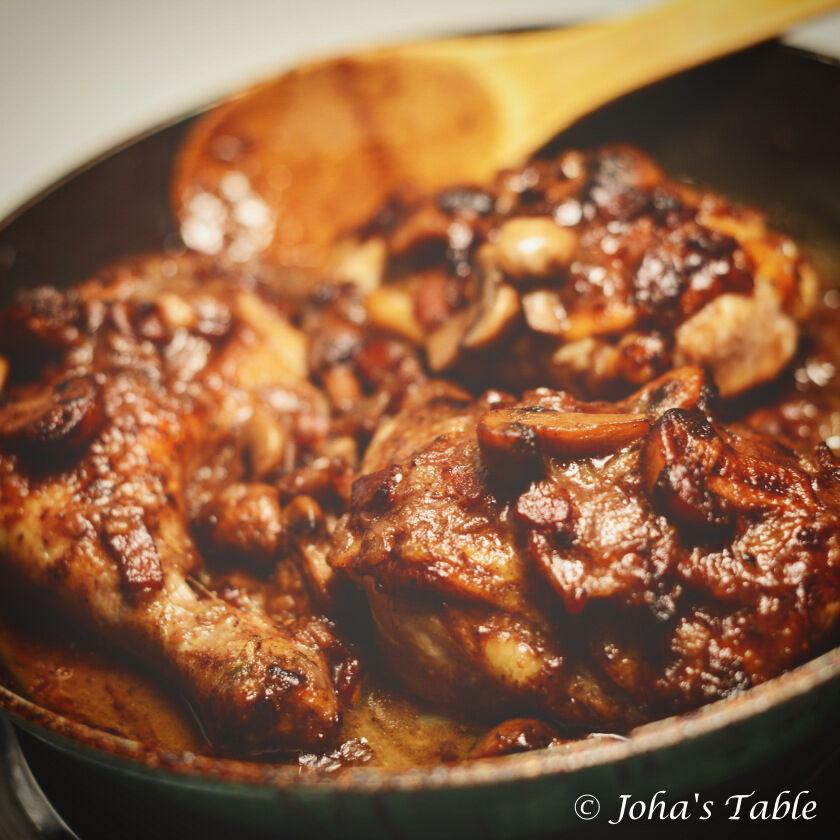 Coq Au Vin
(For 2 people)
(All measurements are simple approximations. I adjusted measures as I cooked)
INGREDIENTS:
2 Chicken quarters with skin (thighs and legs with bone)
1 cup Red wine, traditionally Burgundy (Any dry red wine will do)
3 Bacon slices, cut into pieces (approx. 1/2 inch pieces)
¼ pound Mushrooms, halved
½ Yellow onion, chopped finely
1 tsp Olive oil
1 tsp dried Thyme (use a couple of stalks of fresh Thyme instead if you have it!!)
4 Tbsp Butter
1 Tbsp Flour
½ cup Chicken Stock
Pepper, to taste
Salt, to taste
INSTRUCTIONS:
1. Season chicken with salt and pepper and set aside.
2. Preheat oven to 375°.
3. On stove top, fry bacon in large oven-safe pan (it will be going into the oven later).
4. Remove bacon from pan, leaving grease.
5. Place chicken in pan with bacon grease and cook on medium-high heat until golden and skin is crispy. (Don't worry about cooking the chicken thoroughly on this step. It will be cooked more later.)
6. Remove chicken and place to the side.
7. In the same oil, sauté onions until translucent.
8. Add mushrooms until slightly browned.
9. Add butter until melted and stir in flour to thicken sauce.
10. Once mixed well, on medium heat, stir in wine and let simmer for about 5 minutes.
11. Add thyme and allow it to simmer for another 5 minutes.
12. Add bacon that was set aside earlier, and then stir in chicken stock and allow to simmer another 5 minutes after mixed well, stirring as needed.
13. Add chicken and raise to high heat and pan-baste (scoop liquid onto meat as dish cooks) for about 2 minutes. Taste it and add more salt or thyme if necessary.
14. Take pan off stovetop and place in oven on 375° for about 45 minutes.
At the 30-minute mark, baste chicken, then close oven to complete roasting.
If you see the chicken is ready before the 45 minutes is completed, remove from oven – everybody's oven works differently!
15. Remove from oven and let it cool.
16. Serve with fresh vegetables and Bon appetite!