Somebody asked me recently, what were some lessons I have learned from the COVID-19 pandemic, and their question got me thinking about my attitude and actions over the last year and a half. After a moment of reflection, I determined that this whole thing has taught me three valuable lessons:  
1.Crisis brings out the best and the worst in people. 
In the last few months I have seen people do and say things that I wouldn't have imagined they would be capable of thinking. Some have surprised me with their patience, kindness and compassion for others in the midst of uncertainty. Unfortunately, others have surprised me for their complete lack. But as surprising as it has been, I have realized that we don't love people because they are perfect, we love them because they are people, and their imperfections shouldn't change who I am and why I do what I do. Identity and love are not circumstantial or flippant; they remain the same no matter what. 
2.Life can change in an instant, and being flexible is the key to survive and enjoy. 
All of our lives around the globe abruptly changed in an instant. Suddenly, we couldn't find certain products; we couldn't go places; plans and trips were cancelled; and the hardest thing for me, some of our loved ones are no longer here. 
Being flexible allows us to breathe and find ways to adapt to new realities without fixating on "the good old days," but be open to the possibility of "good new days coming." 
3.Change makes us grow. 
Crises certainly show the areas of our character that have been hiding in the shadow of our comfort. But it's good to face our true selves with and without comfort, and address what needs to be changed within ourselves in order to be better humans. Bitterness, pride and self-righteousness increase when we try to control everything around us and refuse to accept changes. The fact is, life keeps going with or without our permission, but joy warms our hearts when we let things go and adapt.
   Honoring these lessons, this week I made veal soup for the first time, using old techniques and as in the case of many soups, using the ingredients I had in my refrigerator and what was available in the market, and it turned out very good. 
Here is my recipe for all of you, I hope you enjoy it.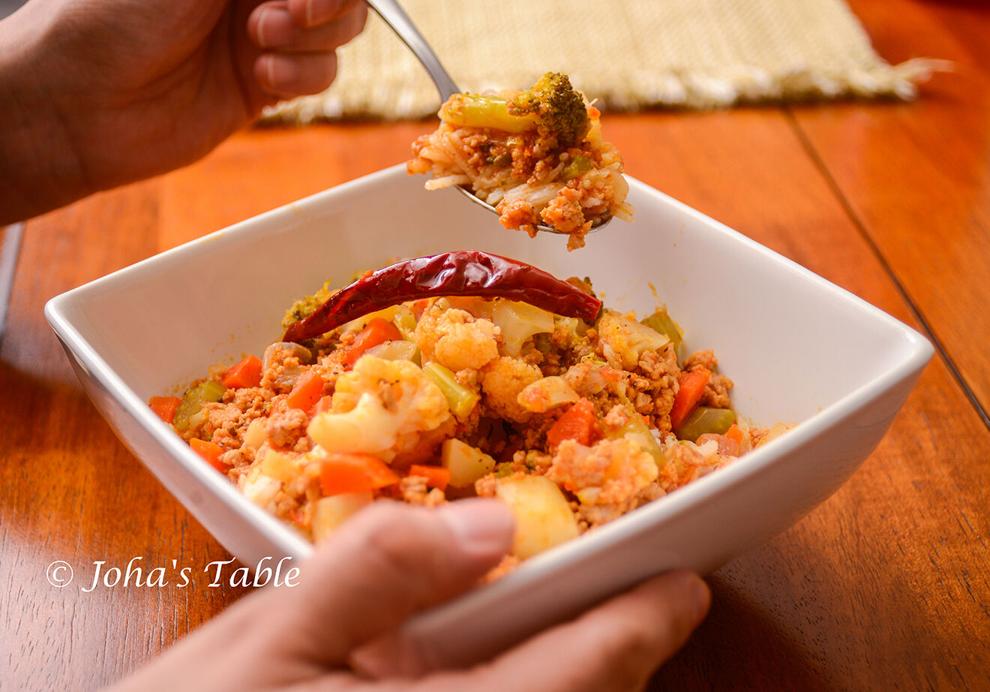 Easy veal soup
INGREDIENTS: 
1 pound of ground veal
2 medium carrots, peeled and chopped
2 large potatoes, peeled and chopped
2 stalks of celery, chopped
A handful of chopped cauliflower 
A handful of chopped brocoli
5 medium tomatoes
1 garlic clove
1/2 yellow onion, chopped
2 spoons of canned chipotle – My preference is La Costeña brand (optional)
3 spoons of achiote (annatto)*
A small bunch of cilantro, chopped
1 bay leaf
A dash of cumin
1 Tablespoon of paprika
1 teaspoon of basil
1 rosemary sprig
1-2 cups of chicken stock. 
Black pepper, to taste.
Kosher salt, to taste.
*Can be found online or in international stores. 
INSTRUCTIONS: 
1. At medium heat in a large pot, sauté onion, celery, and carrots. When onion is translucent, move to step 2.
2. Mash and mix ground veal into the sautéing vegetables. Add potatoes and garlic, and a dash of salt and pepper, and let the meat cook for about 2 minutes. 
3. Using half of the chicken stock, blend tomatoes, cilantro, achiote and chipotle, and add to the pot. Add cumin, paprika, and bay leaf. Make sure that the achiote properly dissolved in the soup. Cover with a lid and let simmer on low-medium heat for about 35 minutes, stirring occasionally. 
If too dry, add chicken stock as necessary.
When potatoes and carrots are fully cooked, adjust salt and your veal soup is ready! 
Serve on rice and enjoy.