Charcuterie boards are a staple in my kitchen, as creating these cute boards of meats and cheeses is one of my favorite things to do for my family and friends. It is a simple way to make a small meal without much effort and a fancy way to impress your guests. 
Many years ago, during a summer, a friend invited me over to her house. Upon arrival, she had a beautiful charcuterie board on the table with all kinds of fruits, cheeses and meats. In between our chat, while sitting around the table, I realized that this was a genius idea for a meal without it actually being a meal. Some might think that charcuterie boards are one of the most intimidating things to make, but truly, just by having a general idea of what it should contain, you can make one on a budget!
Today, I would like to share my five tips that I have collected over the years for my charcuterie boards.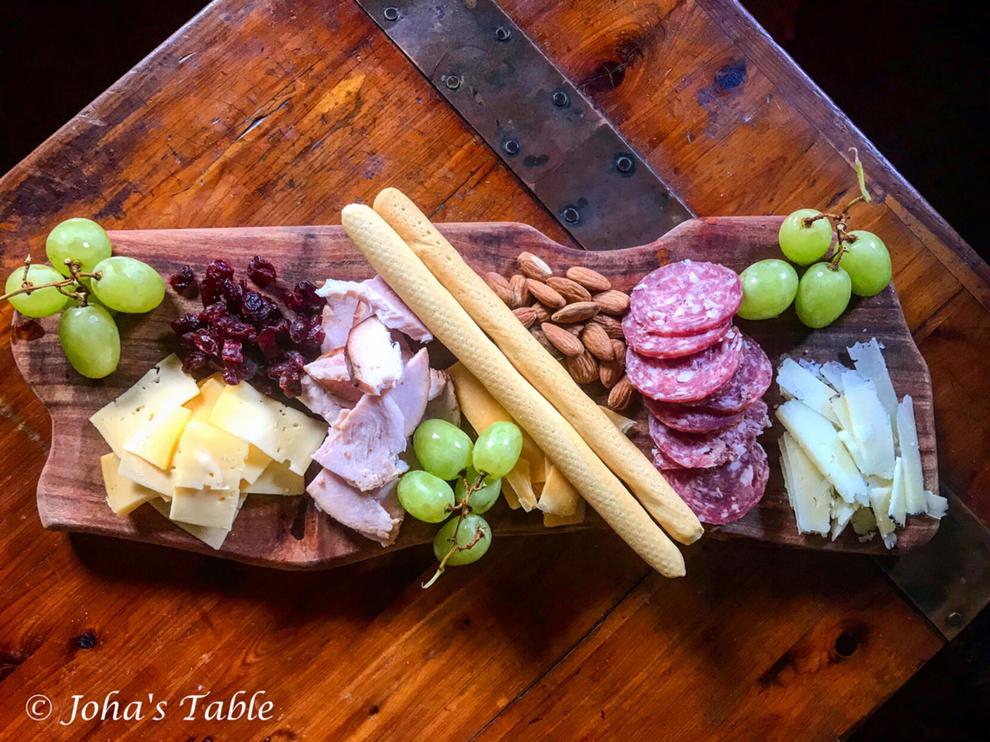 1. Add cold meats. 
The word charcuterie comes from two French words: chair that means "flesh" and cuit that means "cooked." Your cooked elements are cold meats like salami, pepperoni, and some sausages. I usually find inexpensive cold meats in places like Trader Joe's. 
You can also consider serving cured meats like prosciutto (Italian ham), jamon serrano (Spanish ham) or lardo (herby cured pork fatback). 
2  Cheese it up!
I usually try to mix hard cheeses and soft cheeses on my boards. Some of my favorite hard cheeses are gouda, manchego, gruyere, parmigiano, and cheddar. And some my favorite soft cheeses are goat cheese, brie and blue cheese (this has a very particular taste that can be very pleasant to some or not-so-pleasant to others).
A variety of textures, colors, consistency and flavors is key for charcuterie boards. Make sure you get some sliced, and don't forget to have butter knives available for the soft cheeses. 
I usually like serving my homemade mango pepper jelly next to the soft cheese, I have shared this recipe with all of you in the past. Of course, this is optional. 
3. Go nuts!
A good addition to the mix is different types of nuts like almonds, pistachios, peanuts, cashews, etc. Pick a couple different types and place them on the board. You can even add some nuts with a sweet coat on them. My suggestion would be to always have savory nuts besides those that are sweet. 
4  Natural elements: Veggies, fruit and dry fruit 
Another important element is fruit. I enjoy the combination of dried fruits like dry apricots and cranberries, but you can also add raisins and figs; and fresh fruits like melon and grapes. They add a fresh touch to the table. Truly, any kind a dry fruit that you enjoy can be added. 
Among other natural elements, if you prefer not to add fresh fruit, you can consider adding cherry tomatoes and carrots, which go great with hummus.
5.  Pickled veggies. 
Olives (green or black) and pickled cucumbers are also a nice sour touch to your board that can make a great balance with the softness of cheeses and sweetness of fruit. 
6. Don't forget to cracker up!
I like using water crackers and I usually use two types of crackers, one neutral flavor and another with herbaceous hints or even wheat.  
7. Presentation is everything!
Choose one or two elements of each category, adjusting to your budget, but also have fun with the presentation. Check pictures online and get ideas on how to present your charcuterie board. Feel free to add more elements according to what you like. 
Some like to pair their charcuterie boards with wine, others prefer to have nonalcoholic drinks. Whatever your choice is, indulge in all the different flavors and enjoy the company of your dear ones. 
Have a great summer and enjoy!