Next week marks my husband and my five-year anniversary.
As I reminisced about the last several years, I began to think about when Aaron and I met about 10 years ago and became friends. 
In 2010, I quit my job as a political analyst for a lobbying firm in Mexico City to become a missionary. I attended a missionary training in Singapore. The first leg of that initial trip made a three-week stop in Louisiana – my first trip to the states.
As one of three missionaries on our way from Mexico to Singapore, we were invited to a lunch/newspaper interview with "Mr. Williams."
A local homeschool family from one of the churches we visited told us that she had been taking journalism classes given by the local newspaper's editor, Mr. Williams. We quickly became friends and stayed in touch throughout the years. Every time I came back to the U.S., he was on my list of friends I would try to meet up with. We also stayed in touch through Skype, emails, postcards and FaceTime.
At the time, my English was not very good and I lacked any confidence in the language, so I didn't think I could correctly pronounce his first name, Aaron, so I simply always called him "Mr. Williams." 
Our friendship lasted years, and eventually bloomed into the love we now share.
During that initial trip, there was a long list of things locals told me I needed to do – and on the top of that list was to eat certain foods, one of which was jambalaya. 
That is when I learned that people in the South, especially in Louisiana, take pride in their food. And Louisiana offers a unique blend of flavors and foods.
The first time I tried jambalaya was in the city of Gonzales, at a little place called The Jambalaya Shoppe. The rice dish reminded me a little bit of Arroz Con Pollo, a Venezuelan dish, but its appearance was a bit dry. The color wasn't the same either. And it came with bread – it didn't make sense to me. None of my food experiences told me I would enjoy this.
But I looked around to see how others enjoy the dish. Some added salt and pepper, some added Tabasco sauce, some even placed the rice in the bread; but one thing seemed unanimous, it was good. So, I grabbed a spoon and ate it. It was moist and exploded with flavor.
I found myself eating jambalaya at nearly every event I attended around the Baton Rouge area during that trip and throughout my stays in Louisiana over the years.
I realized that every jambalaya was different. Every time I had a taste of the dish, there was something new, something different and beautiful – just like the personalities of the chefs that prepared them.
So, today I humbly offer a new take on this Louisiana staple: it's a cacophony of Cajun flavors with rice and meat, but I threw in hints of my Mexican-Venezuelan ancestry and a dash of personality. My husband jokingly calls it "Joha-mbalaya."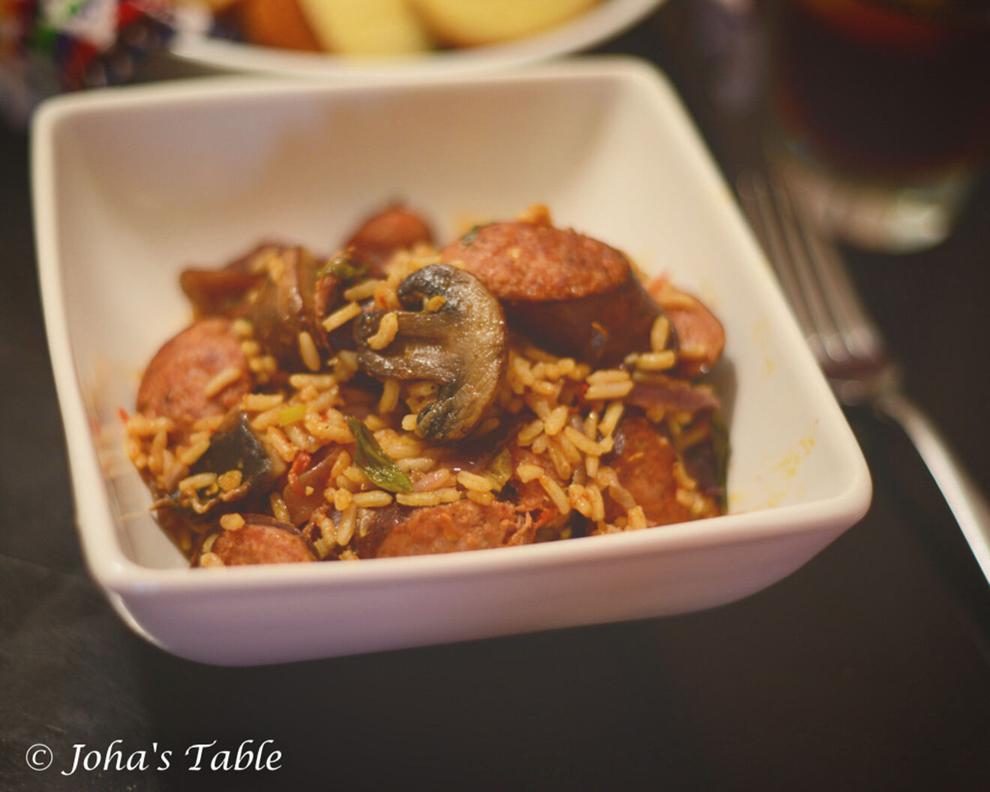 Johambalaya
(feeds 2-3 people)
INGREDIENTS: 
1 lb of Smoked Sausage, sliced
1/2 Red Onion, cut
2 Stalks of Green Onion finely chopped
2 Cloves of Garlic finely chopped
1 Tomato, cut
1 Stalk of celery
1/2 lb Mushrooms cleaned and cut in half.
1 Cup of rice
1 Cup of Chicken Stock
A pinch of Cumin
A pinch of Cayenne pepper
1 tsp of Worcestershire Sauce
Fresh Parsley
Salt
Black Pepper
INSTRUCTIONS:
In a big pan, on medium-high heat, sauté the smoked sausage until browned. Take out of the pan and keep aside.
In a separate pot, pour 2 cups of water and bring to boil. Add rice and some salt, and bring the heat to low and put on lid. Let cook for about 10 minutes. Once it is tender, turn off heat.
In the pan where the sausage was cooked, with the grease still in the pan, sauté the red and green onion, celery and mushrooms for about 4 minutes. Then add the garlic (I didn't add it at the beginning because it tends to burn if it is fried too long). Cook down to give vegetables a light brown color.
Add tomatoes, sausage, cumin, cayenne pepper, Worcestershire sauce, fresh parsley, salt and pepper and about 2 Tbsp of chicken stock.
Combine the cooked rice and vegetable mix. If the mix seems too dry, add more chicken stock little by little, giving it time to be absorbed. Cover for about 5 minutes on low heat. Taste to check flavor and consistency.
Remove from heat, add more salt if necessary and serve with some cornbread and hot sauce!