Lunar New Year, Chinese New Year or Spring Festival (the name varies depending on the country), is one of the most exciting, happy and unique celebrations in Asia. Most Asian countries celebrate with red and gold clothing and decorations, lanterns, parades, music, fireworks, and of course lots of food!
In Singapore, the celebrations lasts several days. Traditionally, people spend New Year's Eve with family. During my years there, I was "adopted" by a few very close friends who invited me to participate with their family during the celebration. There is a special custom done with a fish-based salad and fresh ingredients called "Yu sheng," where something similar to a toast is performed. The salad is served on a large plate, and as people lift and toss the ingredients in the air with their chopsticks, they call for a prosperous new year. 
During these days, the general mood is festive and welcoming as many visit family and friends, eating plenty of foods and all kinds of traditional sweets and goodies like bwa kwa (BBQ pork jerky) and pineapple tarts.
In Singapore, the grand event called the "Chingay parade," which reminds me of Mardi Gras, or Carnival in South America, is host to traditional dragon and lion dancers walking through the streets, people laden in costumes and multicolored floats decorated with a theme related to the animal traditionally assigned by the lunar calendar for each year. 
During this season, children, youth and unmarried young adults receive "Ang Pao"—red envelopes that hold cash money inside—from their married older relatives. As somebody who wasn't married at the time, I always joked with my friends that Ang Pao was definitely one of my favorite traditions! 
Among other traditions include bringing two oranges with you when invited to someone's home. Each guest exchanges their oranges with the host when entering the house, as oranges symbolize gold, or richness, and the act of exchanging symbolizes the mutual desire for prosperity in the new year. 
Another fun tradition I remember from my years in Asia—I noticed that for special celebrations, people are often served noodles. My Singaporean friends told me that in the Chinese culture, the shape and length of the noodles symbolize longevity. 
So, in honor of the wonderful celebration of Lunar New Year, I wanted to share with all of you my recipe for long-life noodles. I have respectfully adapted it to ingredients that can be found in the international section of supermarkets in the Baton Rouge area, or in local Asian stores. 
Gong Xi Fa Cai!  (Happy Lunar New Year!)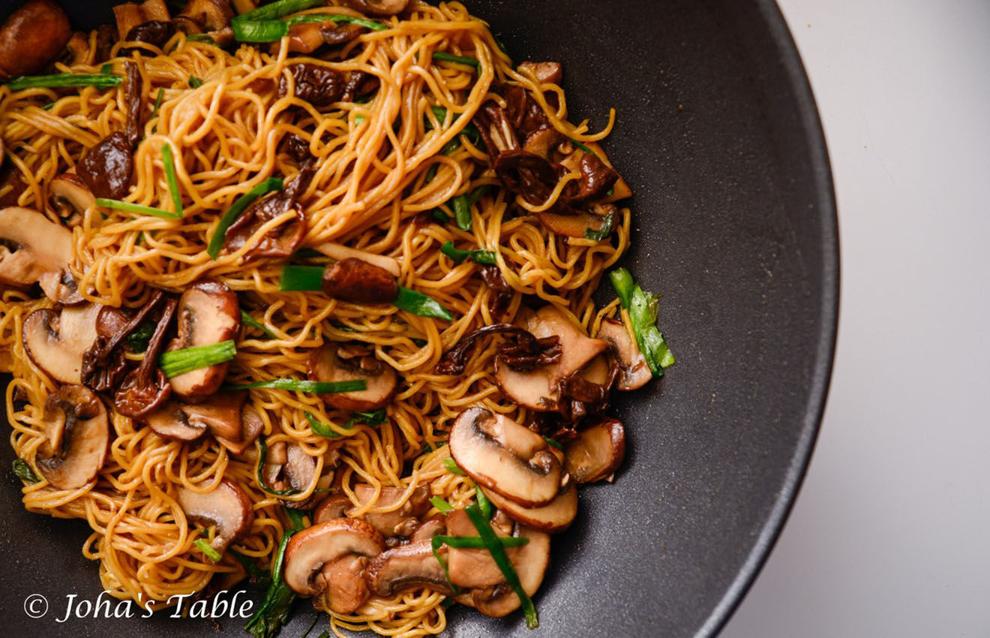 Long-Life noodles
INGREDIENTS:
8 oz (200-250gr.) Wonton noodles (Egg noodles)
2 cups of shitake mushrooms, sliced
½ cup of Chinese chives or green onions (cut the green parts in 2 inches)
Sauce:
2 Tbsp water
1 tsp corn flour
½ tsp sugar 
½ tsp salt
1 tsp syrup or honey
2 Tbsp soy sauce
2 Tbsp dark soy sauce* 
2 Tbsp oyster sauce
½ tsp sesame oil 
A dash of White pepper
Oil
* If you don't have dark soy sauce, substitute with 1 Tablespoon of soy sauce. 
INSTRUCTIONS:
•In a small container, to make a sauce, mix: water, corn flour, sugar, salt, syrup, soy sauce, oyster sauce, sesame oil and white pepper. Set aside. 
•In a large pot boil 3 quarts of water. Boil the noodles for about half of the time that the package instructions indicate and give them a cold-water wash so they don't overcook. Strain and set aside.  
•In a wok or large pan, on medium-high heat, heat up some oil and sauté mushrooms, half of your green onions and a light dash of salt. 
•After about a minute, add the strained noodles and the sauce and mix well for about 2 minutes. If they feel too dry, add a couple of tablespoons of water.
•Taste and adjust salt and pepper. 
•Serve while hot. 
Enjoy!