Cool weather makes me crave soups. About seven years ago, while living in Singapore I was out late at a Hawker Centre – or food court. I was hungry and, because it was late, there was only one restaurant opened at the food court, and they only served soup.
At this particular facility, patrons would choose their vegetables and meat, and a soup would be created to their taste (like a sandwich shop, but with soup).
I looked down at the array of vegetables on display – the beautiful bright colors and fragrances – and saw a lot of items with which I was very unfamiliar. Uncomfortably unfamiliar.
So, I did what I had learned to do in my years as a world traveler – It's a little trick I still do from time-to-time when I find myself in unfamiliar surroundings – I ordered the same thing as the person ahead of me. The soup was delicious!
Months later, my friend Anne taught me what each of the vegetables and others items on display were. She showed me how to successfully order a fantastic soup, and my soup orders grew tastier.
During a visit to Malaysia, I visited a friend who cooked a meal for me.
I was dumbfounded to discover that the flavor of the soup she made was extremely similar to that first soup experience in Singapore. It had bean sprouts, spinach, Bok Choy, boiled eggs, sausage, noodles, tofu, and a lot of other items. But the flavor that stood out to me the most was the Bok Choy.
Though I first tasted it in Singapore, Bok Choy is a flavor I relate to Malaysia, an extremely welcoming country that I fell in love with right away. The people are friendly, the food is delightful, and the Malay language has pronunciations that are very similar to Spanish, my native tongue.
I spent lots of time, gained lots of friends, and ate lots of food in Malaysia. My friends there have become like family to me over the years.
So, considering the slightly cooler weather we are enjoying, I thought I'd share this recipe with all of you!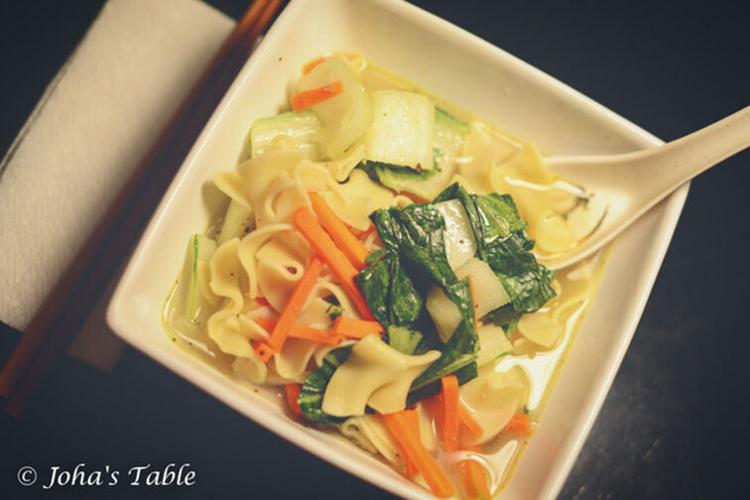 Malaysia-inspired chicken noodle soup
(2 People)
INGREDIENTS:
3 cups water
2 Tbsp finely chopped Fresh Ginger Root
2 stalks chopped Green Onion
4 leaves chopped (about ½ inch) Bok Choy
2 cloves Garlic (whole)
1 tsp Tahini (optional)
½ chicken breast
1 carrot, peeled and cut into fine strips
Egg Noodles
Salt, to taste
Pepper, to taste
Optional: Soy sauce and/or Sriracha (add in individual bowl). I like Sriracha, but think soy sauce is overpowering to the dish.
INSTRUCTIONS: 
Boil chicken in 3 cups of water
Remove chicken to cool after it is cooked through, and shred.
In remaining water (which is now chicken stock), add garlic, green onion, ginger and tahini, and bring to boil.
Reduce heat to medium-low, cover pot, and allow to cook for 10 minutes.
In separate pot, boil egg noodles in water
Uncover soup after 10 minutes has passed and add salt and pepper, to taste.
Remove soup from heat and carefully strain to remove ginger, garlic and onion. (If you like chunks of ginger, garlic and green onion, feel free to skip the straining step.)
After straining, add carrots and Bok Choy.
Transfer cooked egg noodles to soup and allow to simmer 5 minutes.
You want to cook it, but not too long. If it's cooked too long, the Bok Choy will lose its vibrant green color, flavor and crispness.
Add additional salt and pepper if needed.
Ladle soup into bowl and add shredded chicken.
(Add Sriracha to bowl for added deliciousness.)
Note: to use tofu, sauté the tofu until golden brown and add to broth after straining and cook 5 minutes before adding Bok Choy, then simmer 5 more minutes.
Enjoy!