When I was in college, I was the starting shortstop for my university's softball team. 
 My softball team was a special part of me, they were my sisters - and Marcela was the best hitter on the team. 
 Marcela and I had a special connection from day one. We took many classes together and trained together every day. She would often talk about her family in her home state of Veracruz, Mexico, located on the coast of the Gulf of Mexico. 
She talked a lot about her grandma Dulcinea. 
Dulcinea was a woman full with wisdom – that type of wisdom that only comes from walking the earth for many years. She would wake up every morning and brew a big pot of coffee and make café de olla (a Mexican coffee). If she had guests, she always welcomed them with food. In the mornings she'd have fresh coffee, fried plantains, black beans and fresh cheese. And for guests during the afternoon, she would have dishes like Bisteces a la Mexicana (Mexican-style steak) with white rice, frijoles de la olla (black beans) and handmade tortillas. 
 Bisteces a la Mexicana is Marcela's favorite dish; it was one of those dishes that was passed down several generations. Mama Dulcinea learned from her mother, who learned from her mother. 
 The thing is, despite the accolades lavished on her delicious meals, Mama Dulcinea lacked confidence in her cooking, believing she was not a good cook. She grew up poor and they often only had rice and beans, so she only cooked "simple" things. 
But her mastery of those simple things made her one of the best cooks in her region. She cooked with love and authenticity – and that's something that can't be taught.
 So, I share with you all Mama Dulcinea's Bisteces a la Mexicana recipe. 
 I truly believe that the secret ingredient of this recipe is love. This precious recipe is full of history and preparing it allowed me to remember all those beautiful times with my friend Marcela. I am thankful that now I also have a piece of Mama Dulcinea's kitchen in my life!  
Mama Dulcinea's Mexican steaks (Bisteces a la Mexicana)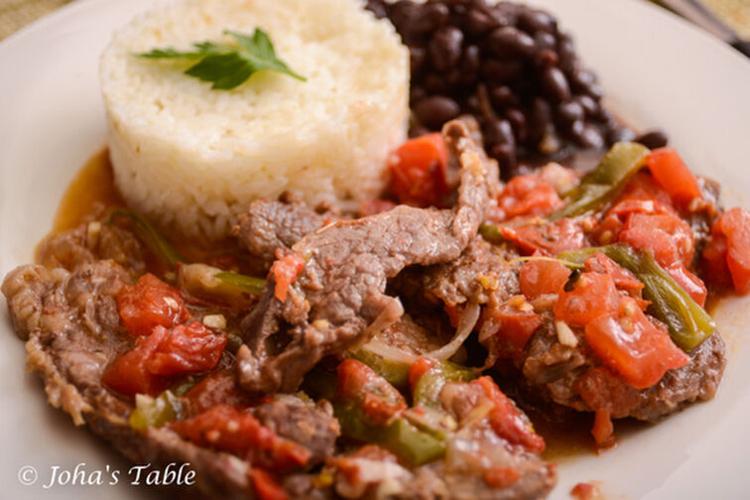 INGREDIENTS
 2 lb of beef shoulder or chuck steak, sliced
1 medium onion, sliced
1/2 kg of tomatoes, chopped
10 sprigs of Cilantro
3 Jalapeño peppers, sliced lengthwise, without seeds
1 garlic glove, minced
Salt to taste
Pepper to taste
3 Tsp of vegetable oil
INSTRUCTIONS:
 Place the slices between two pieces of plastic wrap and use a meat mallet to beat to thin them. Do not beat too hard, you don't want to destroy the meat, just enough to even out the thickness of the steak slices.
 1.  In a large pan or medium pot, turn the stovetop eye to medium heat and add the oil. Wait for the heat to rise. Add the garlic and fry until golden. Add the sliced onion and the meat.
 2.  Add plenty of salt and pepper and cover, allowing them to simmer at low-medium heat, so the meat absorbs all the juice. 
3.  Once the meat is cooked (do not let the steaks get dry or brown too much, they must remain moist), add the tomato.
 4.  Let the tomato season in the juices. The perfect point is when you observe a change of color and texture in the tomato.
 5.  Add Jalapeño and cilantro. Taste and adjust salt or pepper if needed.
 6.  Let simmer with the lid on for about 5 minutes, until the peppers feel tender and the cilantro is cooked.
 7.  Taste again and adjust salt/pepper if needed. Serve warm with white rice, black beans and, if possible, handmade corn tortillas! 
¡Buen provecho!
 Notes: 
 -Leave the lid on at all times. This keeps moisture in the meat. 
-Once tomatoes have simmered, if it looks too dry add ½-1 cup of water.
-Pepper is a game changer for this recipe, it enriches the flavor. Don't be shy!