This autumn has been especially challenging for me. Personal situations have made me realize how bittersweet life can be, and how quickly life can change. But what really matters is how we face those life-changing moments. 
Any avid traveler knows that when you carry the minimum—only what's necessary—the travel becomes more enjoyable and you are able to adjust more easily. In life, this not only means leaving behind the bad, it also means moving forward. 
In the words of author C.S. Lewis, "Getting over a painful experience is much like crossing monkey bars. You have to let go at some point in order to move forward."
As a kid, I hated the monkey bars. I didn't think my skinny arms were strong enough to hold until the end. 
My dad would tell me, "Don't look at how far the end is, just do one at the time," as he held my legs suspended in the air. 
It wasn't until later that I understood the longer I stayed there, the more tired I got, and the more pain I was going to feel.
Finding and maintaining my own rhythm was the key to not getting stuck … because, once I stopped, somehow, I would always start thinking that my only option was to painfully fall to the ground in defeat and pain.
But crossing the bars once gave me hope for the next time, and it challenged me to do it again.
This autumn made me realize that, like it or not, the train of life maintains its schedule, and it will not wait for anybody. We must choose to leave behind what is delaying us and jump on, or stay at the same station the rest of our lives.
In the midst of the challenges, like many people, I needed to find some relief. And cinnamon rolls are a real comfort food for me. They remind me of simple and happy moments of my life. 
But I did something different this time. I made my own pumpkin spice mix, substituted some portions and jumped onto the train, landing at: Pumpkin spice rolls!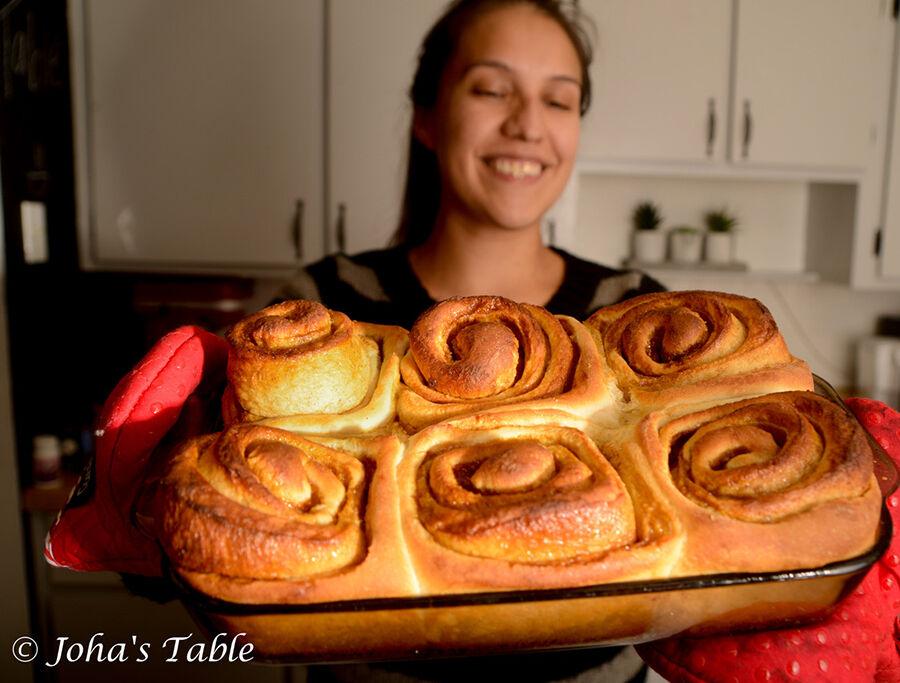 Pumpkin spice rolls
(Makes about 25-30 tiny roles, or 12 the giant size)
INGREDIENTS:
2 1/4 cups hot water
4 1/2 tsp of active yeast (2 packets)
3 Tbsp of sugar
1 tsp of salt
3 Tbsp of butter
5 1/2 to 6 cups of all-purpose flour (if possible, bakers' flour)
1/2 cup butter, melted
1 cup brown sugar (tightly squeezed into the cup)
4 tsp of pumpkin 
spice*. Icing:
1 cup of powdered sugar 
1 ½ Tbsp of milk
1 Tbsp butter, melted
1 tsp of vanilla extract
*Pumpkin spice mix: 2 Tablespoons of ground cinnamon, ½ Tablespoon of ginger, ½ Tablespoon of nutmeg and ½ Tablespoon of ground cloves.
INSTRUCTIONS:
In a large dish add warm water and yeast. Do not move it, just leave it for a minute to soak.
After the minute, slowly add the sugar, salt, butter and flour, and beat until well combined. Continue beating for a few more minutes.
Spread a little flour on a flat surface (table) and roll out the dough in a rectangle less than ¾ inch thick (about ½ cm).
Spread the melted butter all over the rectangle of dough and sprinkle the sugar and pumpkin spice mix.
Start rolling from one of the long sides, little by little. Don't squeeze it, rather keep it loose.
Once you have it rolled, like a log, cut the roll into pieces about 1 inch wide.
On a greased baking sheet, place each of the pieces next to each other.
Cover with a kitchen cloth and let them rest in a dark place with no airflow for 45 minutes, until they double in size.
Prepare your oven to 375° F (190° C) and insert the tray of rolls. Bake for 17-20 minutes.
While they are baking prepare the glaze: mix, in a bowl, sugar, milk, melted butter and vanilla in a container. If it is too thick, add a few more drops of milk.
Once the rolls are baked, remove them from the oven and spread the icing on while they're fresh and hot.
Voila! Enjoy!