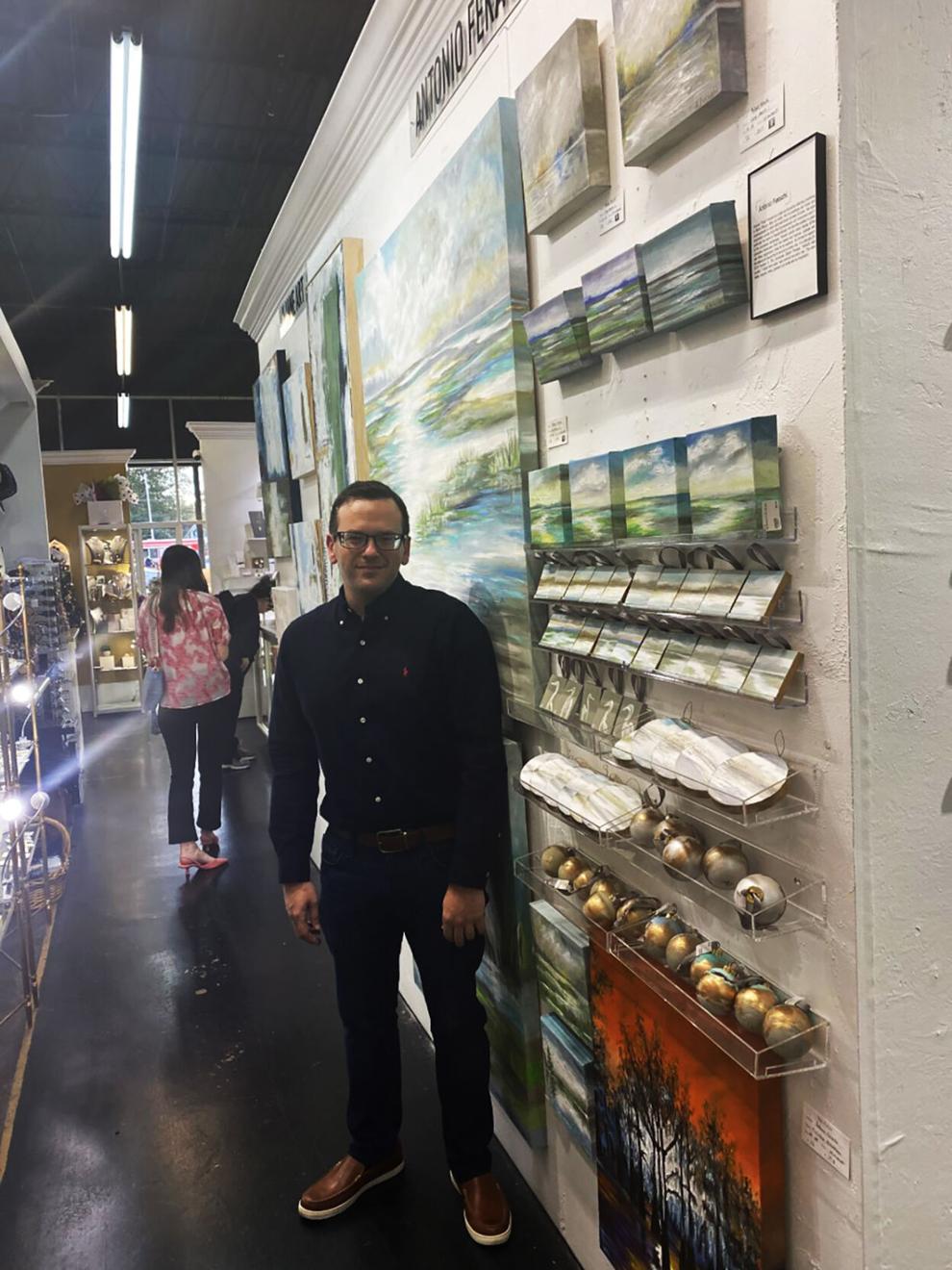 Antonio Ferachi, resident of Iberville Parish, has been submitting artwork to the Plaquemine Bank "Art Alert" show for over 30 years. His first entry, submitted at age 9, won first place. At that time, Ferachi said he was "still taking art lessons, developing my style as an artist." 
   Formal art lessons were taken for 5-6 years in his childhood. Initially, his mother signed him up for lessons after the death of his father when Ferachi was only 9 years old, the same year he won his first blue ribbon. However, Ferachi says of art, "its not sorrowful—it's peaceful."
   Throughout the years, Ferachi has always entered a piece at Plaquemine Bank's "Art Alert" show. In October of 2021, Ferachi won second place in the professional division of the contest for his impressionistic landscape painting "Sugarcane Lane."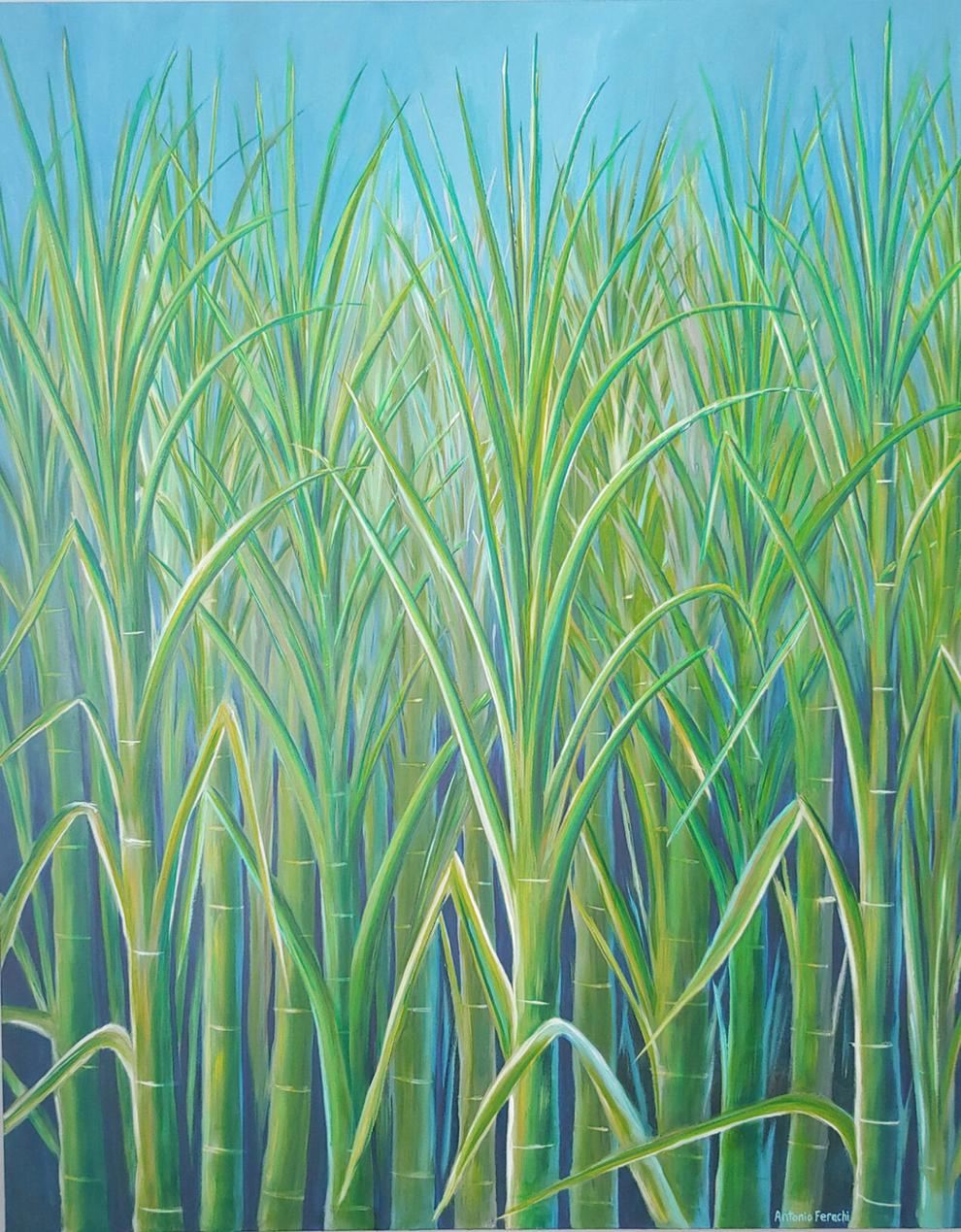 His artwork has also been entered in the Acadian Art Show in Plaquemine. Ferachi's paintings have been awarded over 15 ribbons of various places throughout the years. The artist's commitment to painting oscillated during his early adulthood.
   Ferachi grew up and began his career as a lawyer. His current position is Director of Litigation for the Louisiana Department of Revenue. As a tax attorney for the state, his career can be consuming at times. 
   A former mentor and Secretary of the Louisiana Department of Revenue, Tim Barfield, encouraged Ferachi to get back into his art. The artist said the advice was pivotal to his return. Ferachi's passion for painting, he says, is "a response to a demanding on-the-go day job."
    At first, he would paint 6" by 6" pieces for gratification, eventually working up to larger canvases, illustrating unique landscapes of Louisiana. "I like the creativity. I like the process of it. I've always enjoyed the peacefulness of it,'" said Ferachi of his work. He mostly paints inside his home in a studio, but occasionally paints outdoors. 
   Ferachi's paintings come from photographs or from his memory of his surroundings. Many works are inspired by Bayou Jacob in Plaquemine where there are numerous streams, huge cypress trees, egrets, grasses, white herons, blue herons, and mature oak trees. 
   The local artist also said more than half of his work includes the Louisiana Marsh—because "It screams Louisiana." Ferachi said this unique feature of our state is a "disappearing beauty in Louisiana" due to erosion of coastal lands. Painting the marsh captures its beauty as a way of preserving it for others to see. 
    These two vastly differing interests, practicing law and creating fine art, collided when the Baton Rouge Bar Association hosted a charity event called Arts Judicata in 2017. Ferachi donated 20 of his oil paintings to that first show and 12 of them sold. The response at this event gave Ferachi professional confidence in his art, "maybe people like my style." 
    The next year, in 2018, another 12 pieces sold. It was at this point Ferachi approached The Foyer, an art gallery on Perkins Road in Baton Rouge, about selling his work. "The Foyer has been a great venue for me ever since," said Ferachi. While art sales are "exceedingly random," according to Ferachi, the venture has been profitable every year. 
Ferachi's work can be seen in The Foyer at 3655 Perkins Road, Baton Rouge or online at www.antonioferachi.com and on Instagram @antonioferachifineart