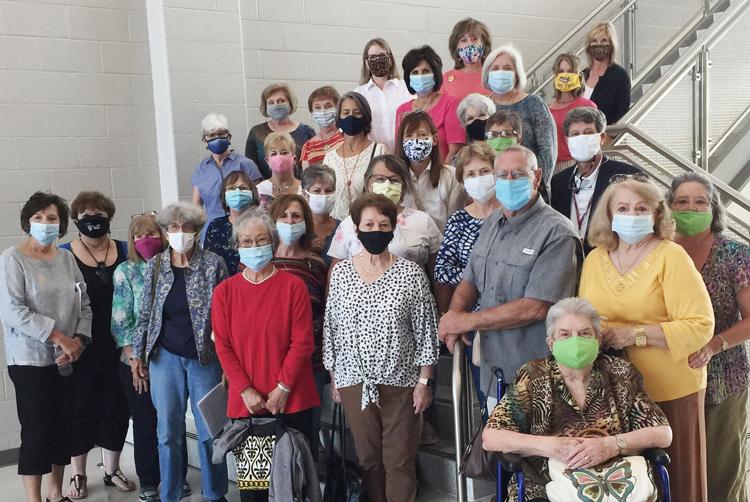 Principal Walt Lemoine of Brusly High School gave the West Baton Rouge Garden & Civic Club a grand tour of the new school on October 13. Everyone was extremely impressed with the tour. Several members expressed a desire to return to school if they could attend this state of the art school. All members were so proud of living in a parish that cared so deeply about the future of the youth. Every opportunity is offered for every student and none will be left behind. Hostesses for the month were: Chairwomen Elisa Tubbs, Fannie Easterly, Dana Fairchild, Thelma Rizan, and Janet Tassin with President Andrea Normand being the liaison.
   Owners of Tassin Christmas Tree Farm, Mark and Janet Tassin, spoke to the West Baton Rouge Garden & Civic Club about how they decided to do something different during their retirement years. They started out small growing Leyland Cypress trees. Each year more trees are planted and the farm expands a bit.
  Mark said the Leyland Cypress is the only Christmas tree that can be grown in our area with good drainage and proper soil. The inspiration for growing a tree farm came from the family's love of having a live tree in their home during the entire Christmas holidays.  Each year their family went to a tree farm to select and cut down their own Christmas tree.
   This tradition started when their children were young and continued until they finished school. 
The tree farm that they had been going to for years, closed. By combining Mark's agricultural background expertise with Janet's help and support the Tassin Christmas Tree Farm was born in Brusly.
After the tour of beautiful rows of very fragrant trees, the club members enjoyed refreshments in the home and on the patio of Joey and Andrea Normand.