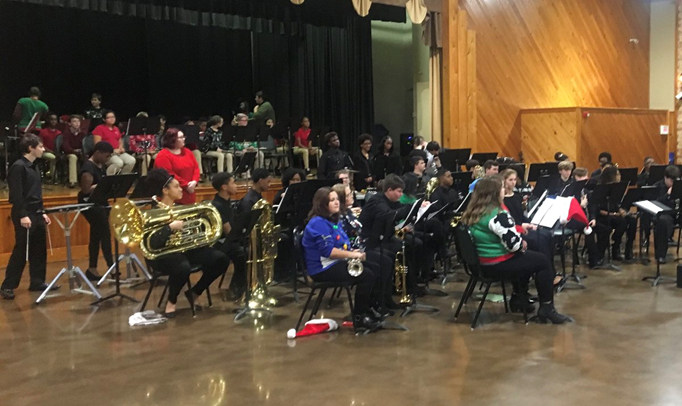 On Thursday night, December 13, Addis hosted West Baton Rouge Parish School System's annual Christmas concert.
From across a parish where live oaks are evergreen and where crimson nandina berries are as plentiful as holly berries, public school musical ensembles got locals into the spirit with favorite seasonal tunes.
The Lukeville Upper Elementary School choir sang several reindeer songs, such as "Blitzen's Boogie" and perennial favorite "Rudolph the Red-Nosed Reindeer."
Brusly Middle School's beginning, intermediate, and advanced bands played a wide variety of festive pieces, such as "Kwanzaa Celebration" and "Deck the Halls with Chips and Salsa."
The Brusly High School and Port Allen High School bands treated the audience to the traditional favorite "Silent Night," which included a vocal solo by Brusly High senior percussionist Sylvie Songe. The high school bands also played modern favorite "Polar Express," as well as "Season of Joy," a mashup of Beethoven's "Ode to Joy" and the carol "O Come All Ye Faithful."
A trumpet quartet from Brusly High provided one interlude, playing "Carol of the Bells." A second interlude was delivered by Brusly High senior and color guard member Tyrenisha James, who sang Mariah Carey's "All I Want for Christmas."
As a grand finale, the bands combined to perform "Name that Christmas Carol," a medley of holiday songs.
A raffle for a $50 door prize added to the excitement. Proceeds benefit the West Baton Rouge Parish School System's music program.