A 73-year-old resident of the Legacy Nursing and Rehabilitation in Port Allen died from COVID-19 on Sunday, according to a coroner's report obtained through a public records request. This marks the first reported COVID-19 death in the parish. 
The facility began screening staff and restricted visitors on March 12, according to a statement published on the Legacy Nursing and Rehabilitation Facebook page. 
The resident was admitted to Our Lady of the Lake Hospital several days prior to his death, according to Myles Holyfield, President at Agentive Healthcare Consulting who spoke on behalf of Legacy Nursing and Rehabilitation in Port Allen. 
Holyfield said no other residents have been tested for COVID-19.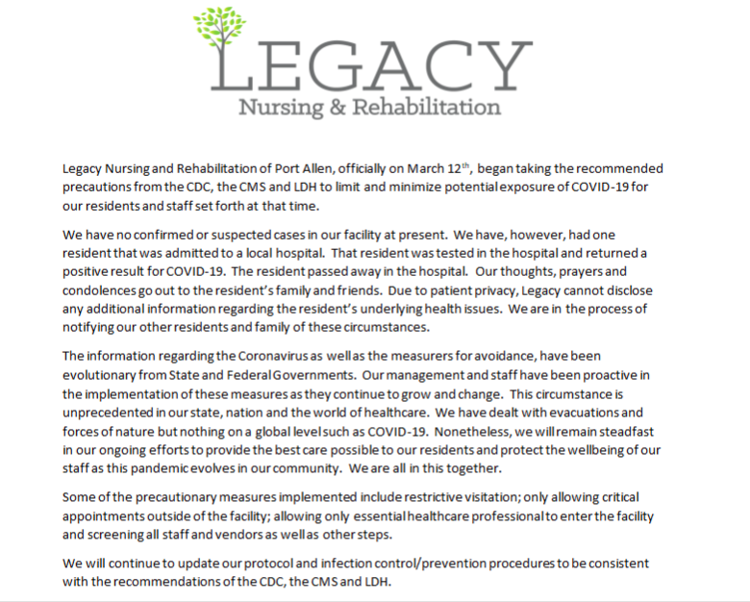 Two people in East Baton Rouge Parish died over the weekend awaiting COVID-19 test results. One person was a 90-year old man from Woodville, Mississippi the other was local woman in her mid-40s.
Louisiana now has 1,172 cases reported across 41 of its 64 parishes. As of Monday, 34 people have died from the disease.
The LDH has now identified two clusters. The first is Lambeth House, a retirement community in Orleans Parish with 42 COVID-19 patients and 9 deaths. The second is Chateau D'Ville in Donaldsonville, with 5 cases identified today. 
LDH is working with both facilities to minimize the spread of this infection, and has requested additional assistance from the CDC.  
Yesterday, Gov. John Bel Edwards issued a statewide "stay at home" order for all non-essential businesses which will go into effect today at 5 p.m.
Gov. Edwards said yesterday that he has no doubt coronavirus has made its way to every parish in Louisiana, despite some parishes reporting 0 cases.
Nearly 6,000 COVID-19 tests have been completed by state and commercial labs. 
This is a developing story please check back for updates.