March 22, 2020
Breaking: Gov. John Bel Edwards announced a statewide shelter in place effective Monday, March 23 at 5 p.m.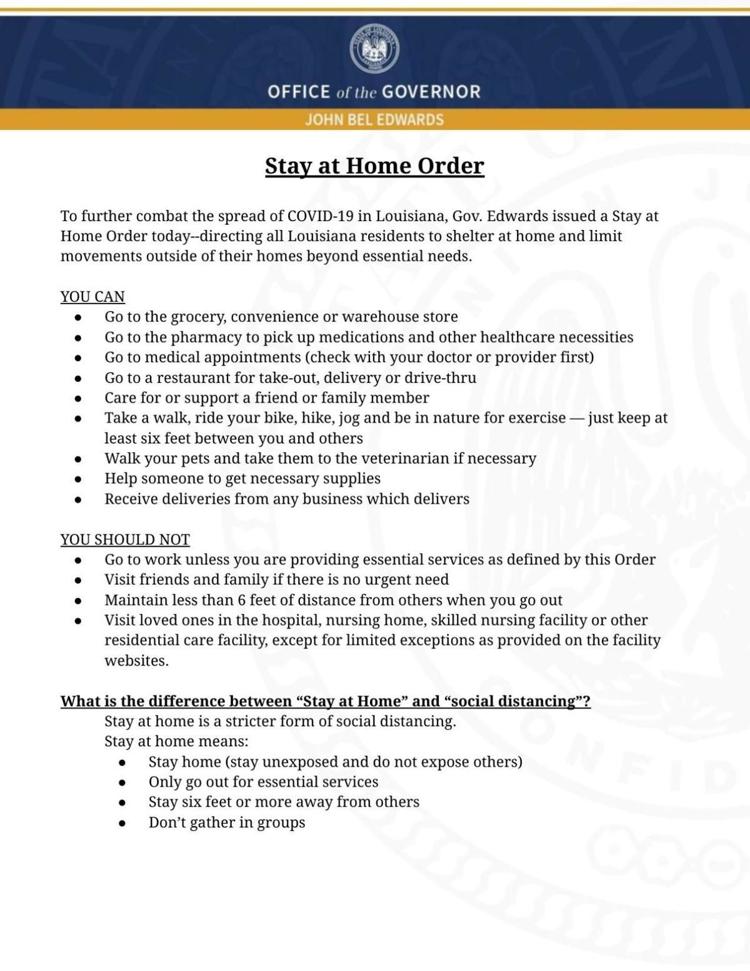 The number of coronavirus cases in Louisiana jumped by 74, now up to 837 according to the Louisiana Department of Health's most recent report. Cases are now in more than half of Louisiana's 64 parishes.
As of 9:30 a.m. March 22, 2020, the Louisiana Department of Health is reporting 837 positive cases of #COVID19 in Louisiana. https://t.co/HPzU8KU2xD pic.twitter.com/zZqGLgPW9M

— Louisiana Department of Health (@LADeptHealth) March 22, 2020
The Louisiana Department of Health confirmed four additional deaths related to COVID-19 Saturday evening, bringing the total to 20.  
The deaths of an 83-year-old Orleans Parish resident, a 50-year-old Orleans resident, a 77-year-old Jefferson Parish resident and a 90-year-old Orleans Parish resident were reported. All aside from the 83-year-old individual had underlying medical conditions. 
---
The number of cases in West Baton Rouge remains at three. Cases in East Baton Rouge continue to climb while other parishes remain stagnant.  
East Baton Rouge's case count rose to 20, with Ascension trailing right behind it with 17.
Iberville Parish now has two cases after remaining steadily at one for two days. Pointe Coupee and West Feliciana do not have any cases. 
Orleans Parish, currently the most impacted in the state, has 450 cases and reports 15 deaths.
---
Hospitals across the Greater Baton Rouge area have begun restricting visitors to prevent the spread of COVID-19. 
Hospitals no longer allowing visitors except in very limited extenuating circumstances:
Baton Rouge General
Our Lady of the Lake
Ochsner Medical Center
These closures do not impact the testing center at Baton Rouge General's Mid-City campus, which will continue testing on Monday, according to EBR Mayor-President Sharon Weston-Broome. 
Nearly 3,500 tests have been completed by state and commercial labs. 
Mayor Broome expects the number of cases in the Greater Baton Rouge area to rise as testing becomes more available, she said last week. 
Currently, three federally funded test sites operate in New Orleans and Jefferson parishes, the most affected communities in Louisiana.