West Baton Rouge citizens, including local leaders and law enforcement officers, marched through Port Allen Sunday, May 31 to protest the police killing of George Floyd.
"We are here today for the purpose of this: to show solidarity with the rest of the country that is protesting about the injustices that are being done over and over and over and over," Rev. Garrett Brown said from the steps of the West Baton Rouge Courthouse before the march began.
"we are angry but we are peaceful" says Kevin Lawrence of Justice for Fatrell Organization at today's #JusticeforGeorgeFloyd march pic.twitter.com/xJaNeXL7O7

— Bre (@BtheJournalist) May 31, 2020
March leaders called for accountability in the death of George Floyd and West Baton Rouge residents Josef Richardson, who was shot and killed by a West Baton Rouge Sheriff's Deputy during the execution of a no-knock warrant and Fatrell Queen, who's 2017 murder remains unsolved.
Sultan Ali Berry led the group in chanting, "no justice, no peace," Black lives matter" and "say his name, George Floyd."
The Justice for Fatrell Organization organized the mile-long march, which began at the West Baton Rouge Parish Courthouse and ended at Centennial Park across from Port Allen City Hall. There, organization leaders and others spoke, encouraging the community to take action through the creation of a Community Oversight Board, an effort the Justice for Fatrell Organization has spearheaded for about a year.
Speakers addressed Sheriff Mike Cazes, District Attorney Ricky Ward and Assistant District Attorney Tony Clayton, who is seeking election as the District Attorney, none of whom attended the march.
"Right now we're sending out a call to all leaders for justice," Clerice Lacy, Director of the Justice for Fatrell Organization, said. "Come out of that office and speak to your constituents."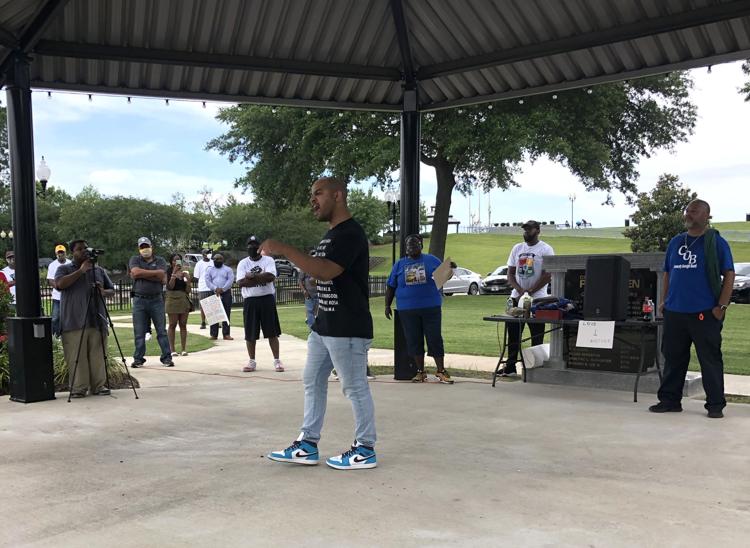 Attorney Kenneth M. Willis presented a heartfelt speech, shouting "eight minutes and forty-six seconds" from the pavilion at Centennial Park. Eight minutes and forty-six seconds is the amount of time former Minneapolis Police officer Derek Chauvin held his knee on George Floyd's neck.
The Justice for Fatrell Organization called for the community support of their effort to create a Community Oversight Board, aimed at reducing and allowing the independent investigation of gross police misconduct.
"You say 'what is the next step,'" Kevin Lawrence of Justice for Fatrell said. "The Community Oversight Board is to protect good cops and get the bad cops out."
Leaders also encouraged voting.
"We have to vote," Berry said. "Our lives literally depend on it."
The West Side Journal reached out to District Attorney Ricky Ward, Sheriff Mike Cazes and Chief Felony Prosecutor Tony Clayton to request interviews or comment on the questions march organizers posed to them. At press time on Tuesday, June 2, only Clayton had responded.
District Attorney Ward responded via email, saying:
"As a public servant for over 30 years and as a human being I have always believed that the highest possible premium should be placed on humanity, fairness and Justice. Additionally, I do believe that the criminal justice system will prevail and as such we should allow it to work itself out. Moreover, I also believe the action depicted in this video does not represent the overwhelmingly number of law enforcement personnel who work tirelessly to protect people and property everyday. And lastly, as a man of God, I pray that any act of inhumanity in some way can be used as a catalyst to improving relationships between law enforcement and all people."
Clayton also responded saying:
"I have spent my entire prosecutorial life putting justice for the people, victims and society as a whole first and foremost. And that will never change."
The video is self-evident, Clayton said, and he believes the officers responsible for Floyd's death will be held accountable, "but we have to allow the justice system time to do its job."