Since announcing the West Baton Rouge School District's 2020 Vision five years ago, the district has celebrated several victories and now it celebrates another - its highest graduation rate ever.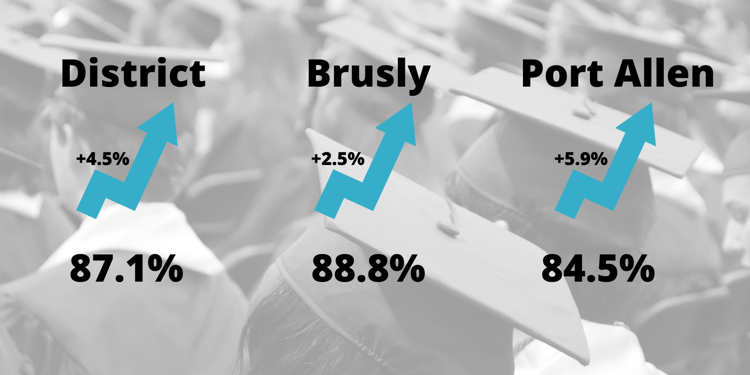 For the second year in a row, the school district celebrates the same success, topping last year's record-setting 82.6% graduation rate for the class of 2018 with a graduation rate of 87.1% for the class of 2019.
Port Allen High School reported one of the largest graduation rate improvements in the Capital Region, jumping 5.9% for a graduation rate of 84.5% - the highest in school history. Last year, PAHS' graduation rate leaped by more than 18% - from 60.% to 78.6% and the school celebrated another "highest-ever" victory, earning a "B" performance label for the first time in school history.
Brusly High School's graduation rate continues to inch closer to 90%, increasing by 2.5% to 88.8% with the class of 2019.
"One focus of the 2020 Vision was improvement of the graduation rate, so it became a focus for the entire school district, but especially at the high school level," Brusly High Principal Walt Lemoine said.
Lemoine and Port Allen High School Principal James Jackson attribute much of the success to adherence to the 2020 Vision plan, which included the addition of one counselor at each campus and expanding opportunities for college and career preparedness.
Counselors Kendalyn Edwards and Richarda Jones at Port Allen High School and Michelle Vaughn and Ashley Blackwell review transcripts and graduation plans and meet with the district's more than 1,000 high school students one-on-one as they work towards their diploma.
"We are there from their freshman year to their senior year cheering them all the way to the finish line," Edwards and Jones said in a statement.
High schools report graduation rates, but the work to ensure students walk across the graduation stage begins much earlier. Middle schools now offer more ways than ever for students to earn high school credit.
Once students reach high school, counselors ensure they are exposed to various college and career planning events, like the National College Fair and meetings with military, college and career recruiters. Further, if they have already decided to pursue a technical career path, they can earn industry-based credentials while in high school.
Both principals stressed the importance of providing opportunities and individualized support for students in improving the district's graduation rate.
The district has also bolstered its relationship with local industry partners like Dow, which has donated computers to Brusly High and built the state's first Think-a-Bit STEM Lab at Cohn Elementary.
"This is the result of a team effort from students, parents, faculty and community supporters," Jackson said. "We are doing things that have never been done before, and we are just getting started."