For more than two decades, Caroline the cow greeted walkers on the levee from the backyard of Earl and Beryl "Honeybee" Fourroux's Third Street home in Port Allen. 
The late Honeybee's beloved aluminum cow now watches over North Jefferson Ave. from the front yard of her son and daughter-in-law, Brian and Keri Fourroux. The iconic levee landmark will soon move to her final home down the road and adorn the grounds of the West Baton Rouge Museum. 
The Fourroux family recently decided to memorialize their matriarch with the donation of Caroline to the WBRM. This week marks both her birthday and the first anniversary of her death and seemed like the perfect time to begin the donation process. Saturday, May 25 will mark the first anniversary of Honeybee's death, just three days after her birthday. 
Honeybee shared a special connection with Caroline. She often dressed her in straw hats, Mardi Gras beads or placed a milking bucket and stool beside her.
She often greeted her large, aluminum pet with an enthusiastic "good morning, Caroline!" so it only felt appropriate for Honeybee's funeral procession to stop in front of the hand-print-covered cow for one last goodbye. 
"I loved to watch her light up and smile every time she saw Caroline," Amanda Fourroux said. "I always knew it reminded her of PawPaw." 
The Fourroux family gifted Caroline to Honeybee about 25 years ago and she quickly became part of the family, surviving several Sunday evening food fights on the levee.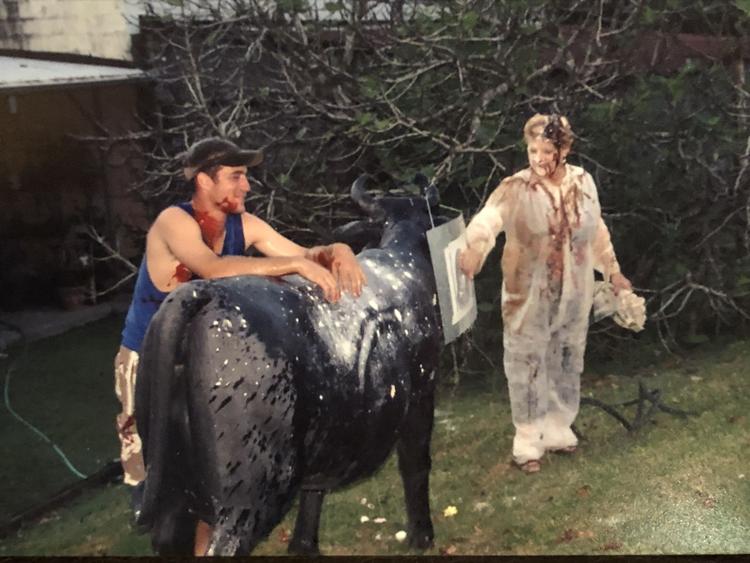 The cow earned her name from the title of the family song, "Sweet Caroline" by Neil Diamond, Brian Fourroux said. 
Beryl "Honeybee" and Earl Fourroux, both Plaquemine natives, moved to Port Allen in 1940-something. She was a member of several organizations including the West Side Women's Club, Modernnaires Dance Club, and WBR Historical Association. She also served as a Eucharistic Minister at Holy Family Catholic Church. 
On Honeybee's last Mother's Day in May of 2018, the family gathered to cover Caroline in rainbow handprints. Now, a little over a year after that Mother's Day, the family will prepare to paint and donate Caroline the cow to her final home on the grounds of the West Baton Rouge Museum. 
The donation is pending the approval of the West Baton Rouge Historical Association.