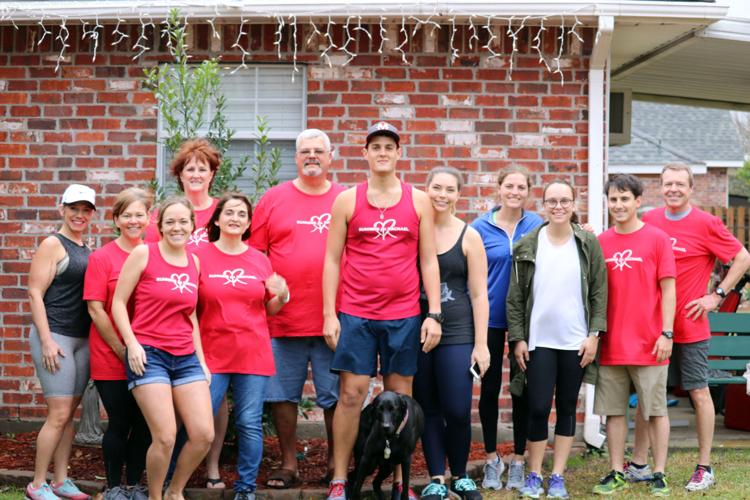 Brusly resident Michael Willis embarked on a 100-mile journey through his hometown over the weekend. With Zebra Cakes and Sour Patch kids candy waiting at the finish line, it's clear he doesn't just run for fitness. He runs for Rachael. 
In 2004, Rachael Willis, a lively 24-year-old with a can-do attitude lost her battle with T Cell Lymphoblastic Lymphoma, an aggressive blood cancer. Shortly after her diagnosis, she began participating in the Light the Night Walk by The Leukemia and Lymphoma Society with her family and friends. It was there that Rallying for Rachael was born. 
Her family and friends continued the tradition of Light the Night to celebrate her life, but little did anyone know her younger brother Michael Willis had been "bit by the bug." 
While on a jog with Fr. Michael Bellelo, Michael said he wanted to run a marathon. Michael wasn't a runner, so the idea got a chuckle out of Fr. Bellelo, who reminded him of the commitment and dedication it would take to train for a marathon. 
"I knew then that I had to do it," Michael said. 
Less than a year later, he ran his first half-marathon. On Dec. 2, 2017, what would have been Rachael's 35th birthday, Michael finished his first marathon. 
While running the Louisiana Half-Marathon, Michael decided his ultimate goal would be to run 100 miles for Rachael. 
A few weeks prior, Michael had the idea of running 100 miles in honor of his sister but thought it was too crazy of an idea, so he asked for a rose as his sign. At mile marker 11, just past the mimosa station, a man handed him a rose. 
Michael jumped into uncharted waters, hired a coach and took off running. In 2018, he completed several runs including a 50-miler he ended with a proposal to his fiancee.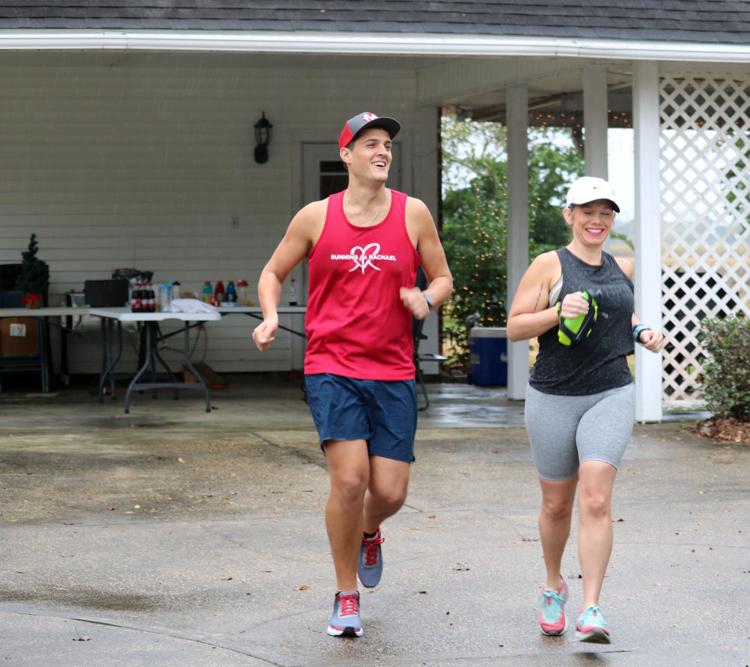 On Dec. 1, 2018, Michael began his 100-mile journey through Brusly. After the last bite of donut, he asked his family and friends to remember Rachael's legacy of love, grace and happiness, and he took off. 
Michael and his fiance Megan Voda, executive director of Running for Rachael, expected two or three friends to come each hour to run alongside him. To their surprise, more than 10 showed up every hour to offer words of encouragement, run for Rachael and cheer him along. 
At mile 58, with high spirits and a yearning to keep running, Michael's legs ran out of go. Family friend and neighbor, Mr. Todd, planned to run with Michael for the late-night portion but found him sitting on the porch. Not disappointed in the least, Mr. Todd traded the Gatorade in his hands for different beverages. 
Despite not making it to mile 100, there was more determination in the air than disappointment at the after party on Sunday, Dec. 2. 
"It made the impact it was supposed to make," Michael said. 
Running for Rachael brought together a community of neighbors and friends, and most importantly honored Rachael's legacy of love, grace and happiness, Michael said. 
"It's about running as far as you can and doing what you didn't know your body could do," Megan Voda said. "I don't run, but I've crossed so many finish lines I never knew I could." 
At 25, Michael said he feels like it's only a matter of time before he makes it to 100. However, his friends aren't convinced the running will stop there. 
"He's going to do 100,"  friend Kristian Jessen said. "Then he's going to shoot for 101, then 102, and he's just going to keep going." 
The first Running for Rachael 5K will be held in May of 2019. For more information, visit www.RunningforRachael.org.