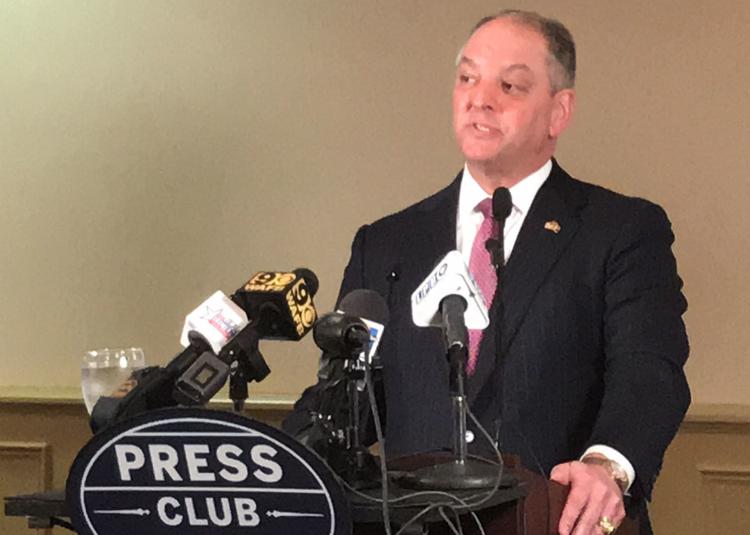 Pay raises for teachers and school support personnel, along with a minimum wage increase, are the main priorities Gov. John Bel Edwards plans to recommend to the legislature for the 2019 session.
He discussed his plans for the election year at the meeting of the Baton Rouge Press Club on Monday.
He will ask the legislature to approve raise of $1,000 per year for public school teachers and a $500 per year increase for school support personnel.
"I believe pay increases will help Louisiana recruit more talented teachers and improve educational outcomes in schools across Louisiana," Gov. Edwards said.
The pay hike for support personnel would cover custodians, secretaries, cafeteria workers, and bus drivers.
At the same time, higher education has been funded without a reduction for only the second time in a row and only the second time 10 years, while TOPS has been funded fully and needs-based Pell Grant program is being funded at highest amount ever, he said.
Gov. Edwards also proposed an increase in the minimum wage over the next two years.
His plan would increase the minimum wage from $7.25 to $8.00 in 2020, and increase it to $8.50 in 2021.
"Our minimum wage is not a meaningful wage in 2019," Gov. Edwards said. Louisiana remains one of only five states in the nation with a state minimum wage, and this comes when the federal government has said it would not push any hike in minimum wage."
He said he would also make another push for legislation that would close the disparity in gender pay.
"We have the highest wage gap in the United States, and everybody should be offended," Gov. Edwards said.
He outlined his platform after he touted the accomplishments over his three years in office, most notably last year.
Gov. Edwards touted a stable budget which he considers groundwork for continued growth for the state.
"I'm extremely bullish on the future of Louisiana and optimistic because of the foundation of success we've laid over the last three years, particularly last year when we were able to stabilize the budget for the long term because of a bipartisan compromise passed last year when we turned deficits into surpluses," he said. "The surpluses have come at the same time we've been able to provide the people of Louisiana a net tax reduction from last year of less than $600 million."
Gov. Edwards said the state was able to reach the lowest unemployment rate seen in a decade, and Louisiana's employment is currently at a near record high with over 2 million individuals employed in the state.
Since 2016, Louisiana attracted 113 major economic development projects which have brought $30.7 billion in capital investment and collectively resulted in 500 new jobs and retaining more than 19,000 existing jobs across the state, he said.
Gov. Edwards also touted statistics from the Federal Bureau of Economic Analysis that stated Louisiana's economy grew 4.3 percent during the second quarter of 2018 outpaced the national average.
The state's economic growth also outdid 12 other states in the southeastern region of the nation, he said.
In the process, the Gross Domestic Product reached an all-time high of $250 billion.
"Our economy has never been stronger, bigger, more robust," Gov. Edwards said.