Julie Mayeux, Assistant Principal of Brusly High School, is transitioning into a new supervisory role after 33 years on campus. 
On July 1, 2019, Mayeux will officially become the Supervisor of Secondary Education in the Central Office.  This position puts her in charge of curriculum and instruction, support for teachers, analyzing data, meeting with local principals, and, essentially, offering support wherever necessary throughout the parish for middle and high school.
Mayeux is no stranger to shifting duties and taking on new responsibilities; in fact, it seems to be par for the course.  While at Brusly, she taught ELA, Science and Television courses, coached basketball for 14 years and softball for 18 years, served as athletic director, and, finally, was promoted to Assistant Principal under Principal Walt Lemoine.
On the afternoon of June 2, her co-workers, former students, and members of the community thoughtfully bid her farewell.  A reception was hosted in her honor, complete with speeches, photo ops, and a cake with a message that said it all:  "Good Luck. We Will Miss You."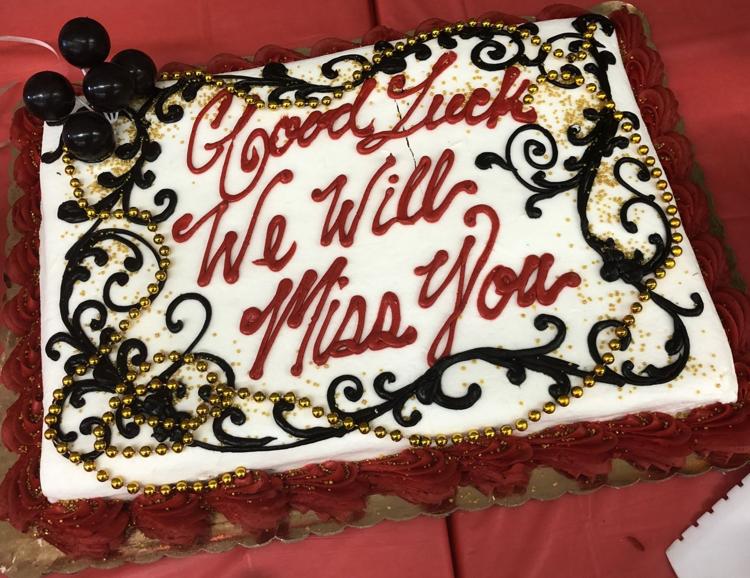 Visitors took turns adding photos to scrapbook pages, sharing memories, and wishing Mayeux success on her next venture.
Although touched by the large turnout, Mayeux insists she will still walk the halls again from time to time.  
"The parish has a lot of talent, and I'll be working with everyone.  I'm not leaving, and I am looking forward to still working with Brusly," she said.
She plans to check in with the school often and maintain strong ties.
Always student-minded, Mayeux notes, "It's hard to leave the kids, but I hope they see it as an opportunity to grow."
Mayeux knew she wanted to be one of two things when she grew up -- a teacher or a geologist. By the time she turned seven, after observing her mother's teaching career, she had made her decision.  Her sister also became a teacher.  Her gift for education comes naturally. 
Looking back on her journey as an educator, she emphasizes that throughout the years, her students taught her just as much as she taught them.  
"You grow in understanding as a teacher," she explained.  "You learn humility and recognize that you're part of something greater." 
Forming "life-long connections" with students and watching them take on roles in the community has been one of the most rewarding aspects of becoming a teacher for Mayeux.  
"Brusly is truly a community-based school.  I am proud of the people they have become," she added.
Mayeux revealed that the true highlights of her career have been "anytime you see young adults have a moment where they realize all that they can be.  I always believed in them."
Her most notable accomplishments stand out as winning multiple state championships, obtaining the Freshmen Academy grant, supporting teachers with Educators Rising classes, and forming the A Team mentoring group between upperclassmen and freshman students.
Reflecting on her many years at Brusly, she called the changeover bittersweet.  
"It's gone by a lot faster than you would think.  It's been a great ride for me," Mayeux said.
All endings mark a new beginning.  At least this one is staying close to home.