A new biannual report by the Louisiana Association of United Ways shows a stark reality for working families in Louisiana-- nearly half of Louisiana households and 41 percent of West Side households could not afford necessities in 2016. 
According to the 2018 Asset Limited Income Constrained Employed Report, 48 percent of Louisiana households and 41 percent of WBR households struggled to make ends meet in 2016. Louisiana's number of ALICE households puts it at the third highest percentage of all 50 states.
"There are so many Louisiana families walking their personal economic tightropes with courage, grit, and hope," Sarah Berthelot, President/CEO of Louisiana Association of United Ways said. "However, without the ability to get ahead, they are vulnerable — one set back, one illness, one natural disaster or even one car repair can take away any and all security ALICE has worked to sustain. Until the arrival of the ALICE Project in Louisiana, these hardworking Louisianans were an invisible group."
WBR District Nine, which encompasses parts of Port Allen has the highest poverty and ALICE rate in the parish, at 31 percent for each. Neighboring District Four, which is in Brusly, has the lowest poverty and ALICE rates at 3 and 12 percent respectively. 
The percentage of ALICE households per district in WBR from highest to lowest: 
District Nine 31%
District Five  30%
District 7 26%
District 6 26%
District 3 31%
District 1 27%
District 2 15%
District 4 12%
The report shows the number of ALICE households in the state has been steadily on the rise since the first report in 2010, rising from 23 percent to 29 percent. West Baton Rouge saw an eight percent decrease from 2010 to 2014 then a five percent jump from 2014 to 2016.
ALICE places a spotlight on a large population of hardworking residents who work at low-paying jobs, have little or no savings, and are one emergency from falling into poverty.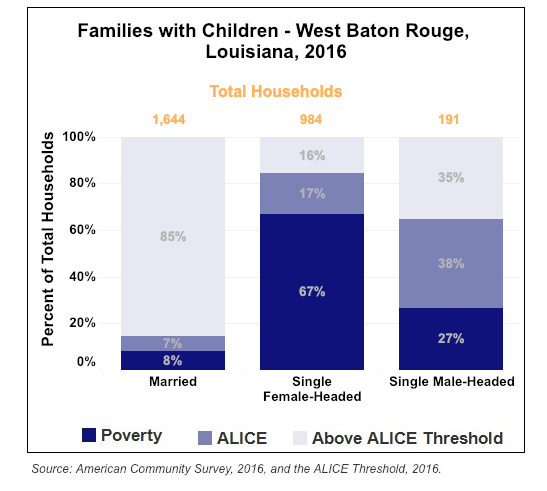 A staggering majority of single female-headed and 25-year-old and younger households in the parish live below the ALICE threshold. Only 16 percent of single female-headed households in WBR live above the ALICE threshold. According to the report, 40 percent of households in the parish under 25 live in poverty and another 36 percent are ALICE. 
Stephanie Hoopes, Ph.D., the director of the ALICE Project, said the 2016 data shows that ALICE households across Louisiana are being squeezed even tighter.
"Despite low unemployment, wages are not keeping pace with the rising cost of necessities, squeezing ALICE households across Louisiana," Hoopes said. "These families are particularly vulnerable to the state's cycle of natural disasters, which continually compromise their economic recovery."
More than 65 percent of WBR residents over 16 are employed according to the US Census. About 5,000 residents work for a large firm like Walmart or Dow Chemical--the parish's largest employers. The average income for employees at a large firm in WBR is $50,676, according to the ALICE report. However, the report estimates a household in WBR with two adults and two young children requires an income of about $58,500 to provide for necessities. A single adult's household survival budget in WBR is about $20,000. 
West Baton Rouge Schools has increased its focus on the education to employment pipeline in recent years through partnerships with local industry giants such as Dow and ExxonMobil. Last year, WBR Schools introduced Internship West, a collaboration with local businesses offering internships to students for the summer to help them gain valuable work experience. 
Port Allen City Councilman-At-Large Carey Williams is creating a summer employment opportunity for Port Allen youth ages 14 to 17 this summer. 
"This will be one way to ease the burden of families that are in the ALICE population here in Port Allen," Williams said. "Putting these teens to work this summer will help their parents with purchasing of necessities such as food, back to school apparel, book bags, and accessories." 
Williams also hosts free haircut and braiding events to local youth for back to school and the holidays.  
"Family economic stability provides nurturing environments for children to thrive." Susan East Nelson, Executive Director of the Louisiana Partnership for Children and Families said. "The ALICE report is a roadmap that shows us how we can make investments that help raise our children up rather than hold them back."