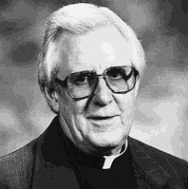 Port Allen native, former Holy Family pastor and Superintendent of Catholic Schools in the Baton Rouge Diocese Fr. Henry Vavasseur passed away on Friday, Oct. 26 at age 85.
Fr. Vavasseur was ordained as a priest of the Archdiocese of New Orleans in 1958 and became a priest in Baton Rouge in 1961 when the Diocese of Baton Rouge was established.
"We have given to Holy Mother Church eight men who have been ordained priests," Fr. David Allen, Pastor of Holy Family Church said. "With the passing of our parishioner Fr. Henry Vavasseur we give back to God the longest-serving priests of those eight at 60 years of priestly ministry."
He served throughout the diocese and in his home parish of Holy Family in Port Allen. He also served as the pastor of St. Pius X and Sacred Heart of Jesus Parishes in Baton Rouge, Assumption of the Blessed Virgin Mary Parish in Plattenville, St. Joseph the Worker Parish in Pierre Part, St. John the Baptist Parish in Zachary. He then served as Diocesan Vicar for Finance, Superintendent of Catholic Schools in the Baton Rouge Diocese and was the longtime chair of the Building Review Board.
Fr. Vavasseur grew up in a loving, Catholic home across the street from Holy Family Church and School as one of 10 children. In ninth grade, he left home to attend St. Joseph's Seminary in St. Benedict, La. and devoted the rest of his life to the priesthood. He is remembered as a prominent proponent of Catholic education. 
"He loved Port Allen, and he loved Holy Family," Holy Family School Principal Michael Comeau said. "Father Vavasseur was loved by all and will be greatly missed."