Editor's note: July 1, 2019, will mark Wes Watts' fifth year as West Baton Rouge Schools Superintendent. We sat down to discuss the past five years and the bright future ahead. The interview has been edited for brevity. 
What interested you in the position Superintendent of WBR Schools? 
Being a principal was my landing spot. I got into this to help kids. I taught and I coached. I knew at some point I would get into administration and eventually become a principal, that was my goal. I never really thought after that. I became the principal fo Zachary High School and loved every minute of it. When this position came open I read it in the paper and there were a couple of things that happened when I was a principal, some frustration about things that were pushed down from the state department. I had no opportunity to have a voice in it. So this came open and I knew the people, I knew the parish. If I was going to do it, this would be the place because of the people, the community and the support. I wanted to have a bigger impact, and I ended up here. 
Did you have a five-year plan when you took the reigns?
 I didn't have a five-year plan. Some people are rebuilders; they take something that isn't good and make it better. I always felt like my niche was taking something pretty good and trying to make it better. West Baton Rouge has always been a really solid and good school district. My idea was to get to know the people here first, then develop a plan based on what the community wants, what the school board wants, and what your school leaders want. In November of 2014, we held a School Board retreat, and we redefined. We set a new vision, a new mission, and some core values. That was the beginning of developing our five-year strategic plan, our 2020 vision. We're now in the last year of that.
First and foremost, our goal was to recruit and retain great teachers. Then high-quality instruction, a rigorous curriculum, character building were a focal point. We wanted to increase our technical course offerings, expand the STEM Academy, visual and performing arts programs, and felt like we needed to update our facilities to create optimal learning environments. We were really strong in technology and early childhood, but we wanted to get better. 
What goals in that plan has the district met or exceeded?
A lot of them we have hit, but some of them are still in the works. We opened early childhood education to everyone and are at a 1:1 ratio with technology. The STEM Academy, a partnership with Dow, is still growing. We have increased the number of AP, enrichment, and technical courses offered through JumpStart. I'm really happy about that one. We're offering more engineering, robotics, and tech classes. 
This year, we hit the highest graduation rate in the district ever. 
In five years we have moved up to having no D-rated schools in the district. That was a proud moment for us as a school district. 
West Baton Rouge Schools hosted its first job-fair this year, with more than 200 participants. The idea is simple: put strong leadership and great teachers at a school, and that's how you improve education. 
I think we do a really good job for all students. One of the things I am most proud of is that we work hard to help every student meet their maximum potential. 
What goals are still in the works?
We're still working on curriculum to make sure it's comprehensive and rigorous. That's something we're always working on. 
We haven't improved the visual and performing arts enough yet. I think we're off to a good start, but we hit a snag with some financial burdens. I want our kids to have more access to art and music. 
Our assessment on school performance scores. We want those to reflect the work we're doing and success we're having in schools. I am proud that we survived the changes to that assessment when the number of A schools in the state from 14 to two. 
When did you know you made the right decision coming to the West Side?
Immediately.  Before I was even hired. I knew if I was offered the job that this was the place I wanted to be. It's always about people. One of the key moments I felt sure was the first convocation.
What has changed over five years? What has stayed the same?
The people are the same. I hope that the unity between the north and south end of the parish has improved. 
What are you looking forward to?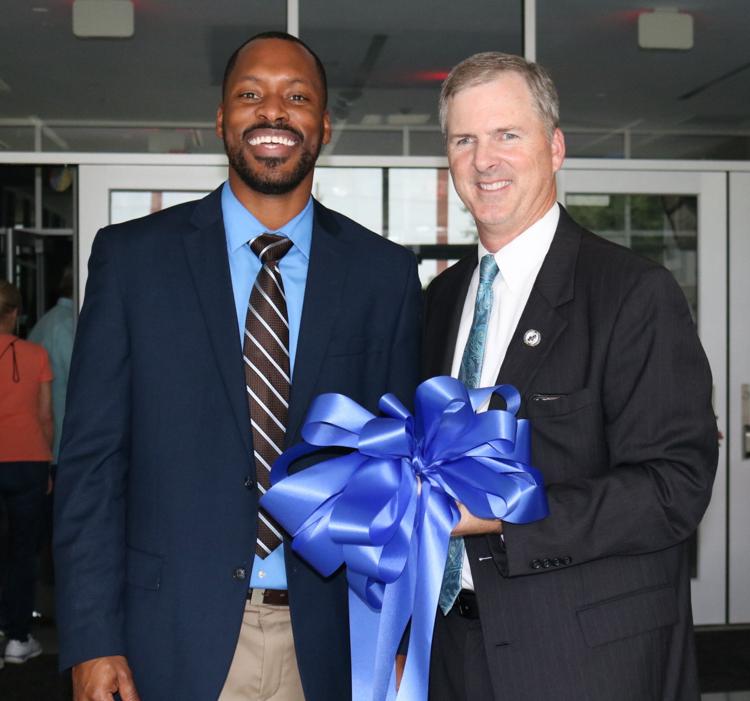 Closing on the construction projects at schools across the parish. I also look forward to our scores accurately reflecting the work our schools are doing, getting better at developing more support for teachers, and providing more art, music, and physical activity for kids. 
My biggest fear is not doing something we say we're going to do. We began with a goal to be an A-rated district, but with changes to the assessment system that seemed unrealistic. We want to be a Top 10 ranked school system.