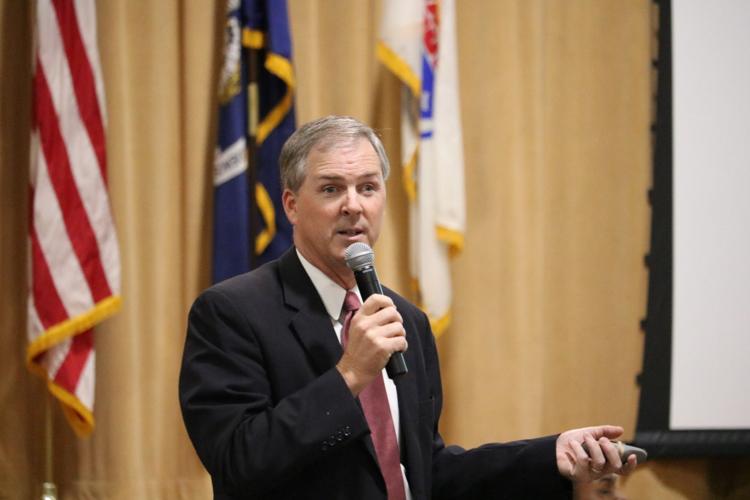 A drop in school performance scores has not put a damper on the district's goal to be a top 10 school by 2020, Superintendent Wes Watts said during his "State of Education" address to the WBR Chamber of Commerce.
The West Baton Rouge Parish School System's District Performance Score dropped from a B to a C under a new accountability system, but high marks in growth show a promise of progress. 
"Right now our goal is top 10, we'll let the A happen right after that," Watts said.
This is the first year the state calculated school performance scores under a more rigorous formula, which no longer includes "basic" scores on standardized tests. The ACT mark also moved from 18 to the national average of 21. 
Last year, Louisiana boasted 17 "A" rated schools. This year, four made the cut. 
For the third year in a row, all West Baton Rouge schools earned a C or better, but each saw a dip in scores. Despite the district-wide drop, only two schools slid down a letter grade. Brusly High slipped from an A rated school to a B and Devall from a B to a C. 
Scores in school progress show promise, Watts said. Brusly High School, Chamberlin Upper Elementary and Port Allen Middle School scored higher than 90 percent of schools in the state on progress, all earning As. The rest of the district followed closely behind, with the remaining schools earning Bs. 
"We set targets for them, the state sets those numbers, and our students are meeting those targets," Watts said. "This is a marathon for us. Our job is to have these students prepared to be a part of your workforce, to be good fathers, good mothers and be good citizens when they graduate." 
While school performance scores offer a wealth of information, they do not reflect every aspect of growth and progress in the district, Watts said. Even though scores saw a decline, teacher retention and community partnerships like Internship West and Dow STEM Academy are on the rise. WBR Schools are already reaping the benefit of those community partnerships. About 42 percent of West Side students say they plan to pursue a career in STEM while the national average is 29 percent. 
"Our greatest accomplishment is not a score, but producing great people and preparing students for chasing their dreams," Watts said.