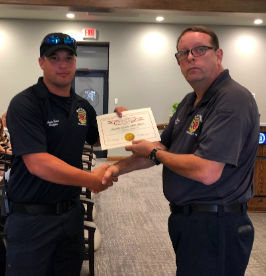 West Baton Rouge Fire Chief Kenny Hunts announced his upcoming retirement at the Thursday, Jan. 10 Fire Board meeting.
Hunts has served as the parish-wide Fire Chief for four years and been in the fire service for 28 years.
"I really appreciate all of the support y'all have given me and the fire service," Hunts told the Fire Board.  "Without those guys that volunteer and the paid guys and gals, it would be very hard to deal with. They're doing a fantastic job."
Hunts insisted his retirement does not mean he will leave the fire service, but instead he will serve in a different capacity.
He plans to move to North Georgia with his wife and enjoy life at a slower pace, he said.  
"Being a chief is a great reward, and it has a lot of challenges as everybody knows, but I still go back to the days when we used to get in those wrecks and save those people's lives and fight those fires," he said. "That's what I had the passion for, and I still have the passion for today. I'm not saying I'm not in the fire service I'm just moving on and hopefully I can volunteer to help somewhere else."
Chief Hunts will retire on August 25, 2019.
The hiring process for another chief is expected to begin shortly. Parish President Riley "PeeWee" Berthelot will appoint the next WBR Fire Chief from a pool of qualified applicants.