Earning an undergraduate degree from Louisiana State University is a tiring pursuit, but for Port Allen native Kimi Clopton the feat was exhausting.
Clopton is diagnosed with Dysautonomia, a disorder of the autonomic nervous system which affects involuntary functions like heart rate and adrenaline. The side effects include chronic fatigue, elevated heart rate, and low blood pressure. 
"I knew what I needed to do to get where I needed to get to, so I made it up in my mind that this is hard, but this is what I have to do," Clopton said. 
While she was a student at Port Allen High School, Clopton set a goal to be Valedictorian of the class of 2013, and she met it. PAHS classmate Morgan VanNorden called Kimi a "model peer." She was always at the top of the class and dedicated to everything she did, VanNorden said. 
She showed up to classes at LSU with the same determination--to do it and to do it well.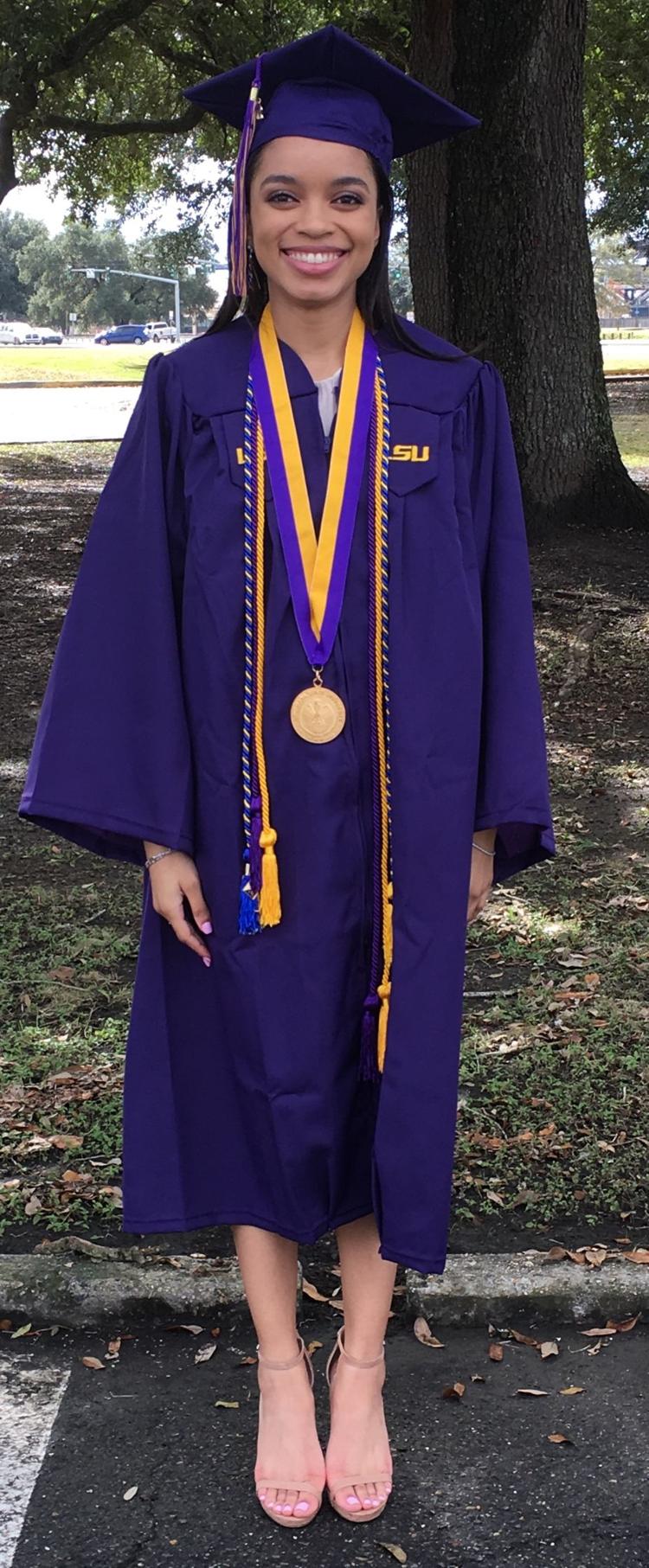 This month, Clopton graduated from LSU with the University Medal, the highest academic honor awarded by the university. The University Medal is awarded to undergraduate students graduating with the highest grade-point-average (GPA), with a minimum requirement of a 4.0. 
Clopton earned a degree in Chemistry with minors in mathematics and biological sciences. 
Clopton attributes much of her success to the dedication of her mom, Cynthia Clopton. Due to the side effects of Dysautonomia, Kimi Clopton is unable to drive. Cynthia Clopton spent hours in LSU parking lots, sometimes until 5 a.m., while Kimi finished projects, labs and studying. Her mom always accommodated her, Kimi Clopton said. Sometimes running on just a couple of hours of sleep, Cynthia would drop Kimi off for classes then head to work. 
"I knew what she wanted, and I knew she had always set goals for herself," Cynthia said. "She didn't have to tell me. I just knew that all of this mattered to her."
Kimi Clopton's middle school teacher Richarda Jones said Kimi has always had a genuine desire to succeed. 
"She always put forth her best in everything she set out to do," Jones said. "She was eager to help others, especially her friends and her younger sister, Kori."
With her hard-earned diploma under her belt, Kimi's eyes are now set on medical school. 
"I feel like I've done what I set out to do, but now I feel like it is behind me so now I'm focusing on what's next," Kimi Clopton said.