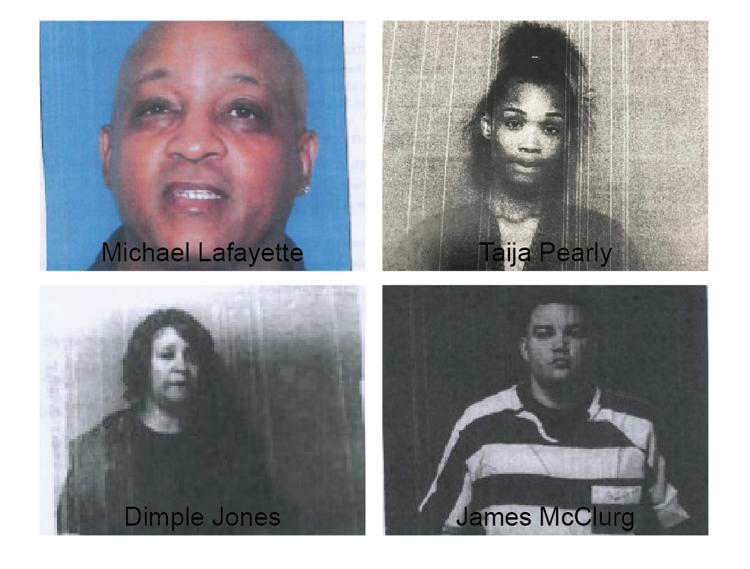 UPDATE: The fourth deputy, Michael Lafayette, turned himself in to authorities on Wednesday, Dec. 5. 
---
Three West Baton Rouge Sheriff's deputies have been arrested and another is wanted for malfeasance in office. Three arrests stem from an internal investigation into recent escapes from the Work Release program. One arrest stems from the investigation into the murder-for-hire plot stopped by authorities in early November.
Taija Pearly, 23, Dimple Jones, 56 and James McClurg, 28 were arrested on charges of malfeasance in office. Pearly and Dimple were also charged with sexual conduct prohibited with a prisoner. Michael Lafayette, 60, of Baton Rouge has not turned himself in to authorities and is wanted on charges of malfeasance in office.
After two work release trustees escaped in less than a week in early November, the Sheirff's Office launched an investigation. Michael Jones, who escaped first and has been apprehended, walked off while taking out the trash. His escape was due to a "minor policy infraction" West Baton Rouge spokesperson Major Zachary Simmers said.
However, the escape of Kovaria Williams, who has not yet been apprehended, raised questions. His escape was unreported for hours, Simmers said.
The investigation revealed Pearly was at a hotel while reportedly on duty and Lafayette transported an inmate to the hotel to have sex with her. McClurg, the night shift supervisor, allegedly accepted bribes and allowed the behavior.
McClurg, Pearly and Lafayette were "running the ship how they wanted to" Simmers said.
Jones confessed in November to sexual conduct with a prisoner during the murder-for-hire plot investigation, Simmers said. Jones was brought in for questioning during the investigation of Nathaniel Jelks, who was charged with two counts of solicitation for murder, at the conclusion of the investigation.
"These were bad judgment calls," WBRSO spokesman Dale Simoneaux said. "People had some personal problems in their life and let inmates take advantage of them."
Both incidents are believed to be isolated, Simmers said. Pearly, Jones and Lafayette were employees of the WBRSO for six months. McClurg had been employed for approximately five years.
The Work Release program is currently undergoing reassignments and adding supervision positions to some shifts. The investigation is ongoing, but Simmers does not anticipate any more arrests, he said.
"Let this serve as a warning to any other deputy out there not doing right," Simmers said. "You will be arrested, you will be fired and you will be prosecuted to the fullest extent of the law."