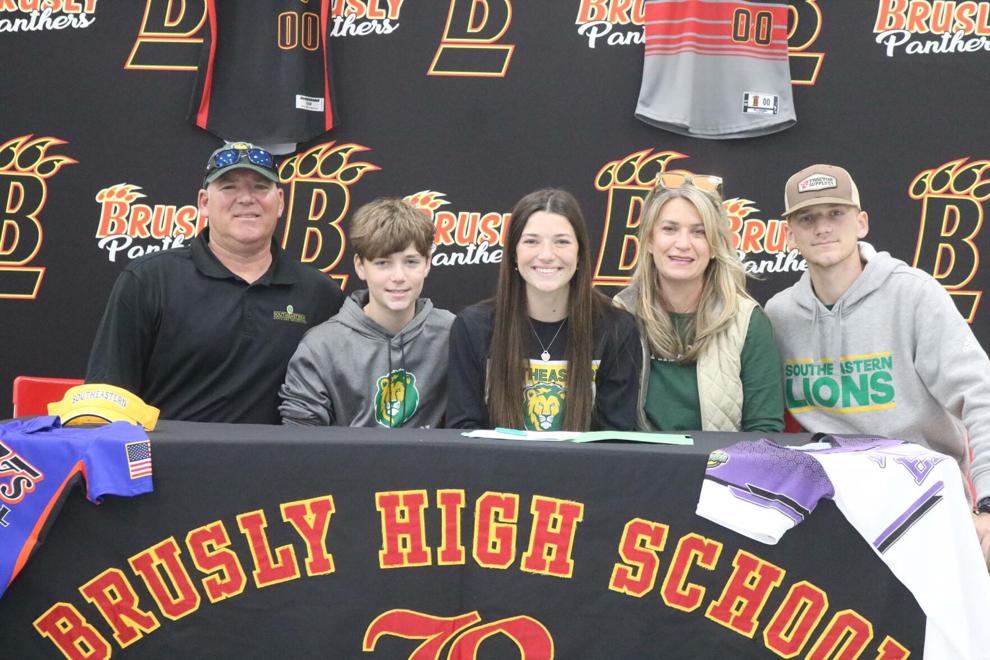 In the past three seasons, Brusly softball senior Britt Bourgoyne has been a part of a championship team as a freshman and saw her sophomore season cut short because of the pandemic. 
Heading into her senior season this spring, she can add Division I college athlete to her resume.
Bourgoyne made it official Friday afternoon by signing a letter of intent to attend Southeastern Louisiana University to continue to her athletic and academic career.
The shortstop had verbally committed to Southeastern as a junior.
"It was a good place for me to go," she said. "I love their coach (Rick Fremin). They seem like they have everything together and that's something I'm looking forward to."
Bourgoyne will join former Brusly softball pitching ace Mary-Cathryn Comeaux at Southeastern. 
"It just shows how many people I have supporting me," Bourgoyne said of Friday's event at the Brusly athletic fieldhouse. "All the people that I have been around my whole life are still proud of me now. It's a dream come true, and it means a lot because the people that were there the whole way are still there today."
Bourgoyne has been a three-year starter at shortstop for the Lady Panthers and will be relied upon heavily going into her final season this spring.
Coach Jory Comeaux, who was an assistant coach on the state championship team in 2019, is also Mary-Cathryn's father and Bourgoyne's neighbor.
"I've had the pleasure of watching Britt grow up from across the street for a long time," he said. "I've seen her in my yard with Mary-Cathryn hitting balls and throwing and growing a love for this game. Division I college athlete. From now on, most rooms that you'll walk in, you'll be one of one. That's a pretty prestigious club to be in."
Julie Mayeux was also an assistant on the 2019 but said she has known Bourgoyne for a long time.
"I've been in this a long time and this program is one that my whole heart is involved in, and Britt represents Brusly high softball and that's probably the biggest compliment I can give someone," Mayeux said. "It's character, academics. You're not perfect, but you were more determined to become better in the process."
Brusly head coach Beau Bouvier said Friday's event could set an example for others in the program.
"It's always good to see a girl who's worked hard and achieve her lifelong dream," he said. "Hopefully she can be an inspiration to the younger players on our team that if you work hard and you do everything possible, then good things can happen. It may not be at Southeastern, but there's a place for these girls to play if they really want to. Britt is a hard worker. She represents the student athlete."