The Brusly boys basketball team has two wins to start off its invitational tournament with a 52-38 victory over Family Christian Academy (FCA) Thursday night, followed by a 52-43 win over St. Martinville on Friday in Brusly.
St. Martinville led 10-3 in the first quarter before the Panthers outscored the Tigers 9-4 to trim the deficit to 14-12 with 4:55 before halftime.
Brusly took a 21-20 lead on Davis Stovall's layup with 6:12 left in the third quarter. Nick Penell's 3-pointer from the top of the key extended the Brusly lead to 26-20 with 4:05 showing.
St. Martinville closed the quarter with a 10-2 run to claim a 30-28 lead heading into the fourth.
The teams traded buckets at the beginning of the fourth. The Panthers got some separation midway through the fourth. Shannon Osborne's layup put Brusly up six with a little over three minutes left and the Tigers would not get any closer.
John LeBlanc led Brusly with 13 points. Jalen Forest added 10 points. Penell and Luke Devillier had eight points apiece.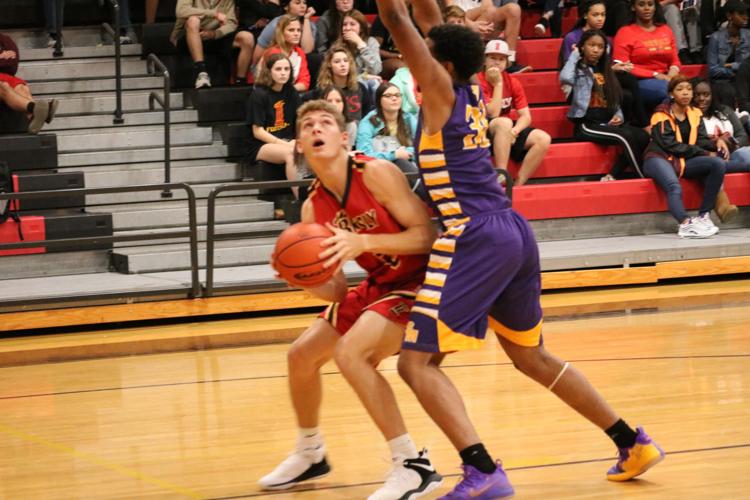 Brusly pulls away from FCA in the second half
Brusly pummeled FCA in the teams' first meeting in mid-November, but the Flames had other plans Thursday night.
It wasn't a 76-29 win like the first meeting, but Brusly opened the tournament with a 52-38  win in round two with FCA.
"We played them a little over a week ago," said Brusly head coach Kirby Loupe Thursday night. "We played well in that game. They didn't play very well. The score was kind of separated by a wide margin and I told them all week we're starting back at 0-0 and they're (FCA) going to be hungry and they're going to play better.
"They came out in a zone and kind of slowed us down a little bit," he added. "At halftime, I told them we needed more tempo against the zone. We missed a ton of fastbreak layups that I thought could've separated the score, but I thought defensively we did a pretty good job."
Brusly opened the second quarter with a 7-0 to claim a 15-8 advantage and the Panthers never relinquished the lead.
Stovall's bucket early in the third quarter put the score at 28-15 in favor of the home team. FCA did not come within single digits for the remainder of the game.
Forest had a game-high 20 points, while Stovall joined Forest in double figures with 10 points. Ja'Sean LeDuff added eight points.
The Panthers close out the tournament Saturday with a matchup against St. Michael at 5:30 p.m.
"St. Michael will be a challenge," Loupe said. "They play differently. They're gonna run their motion offense and we're going to have to do a good job of jumping the ball and making sure we're sound and communicate defensively or you'll get lost in all of those screens that they set. It's basketball season, I just told that to the football players. It's time to start grinding."