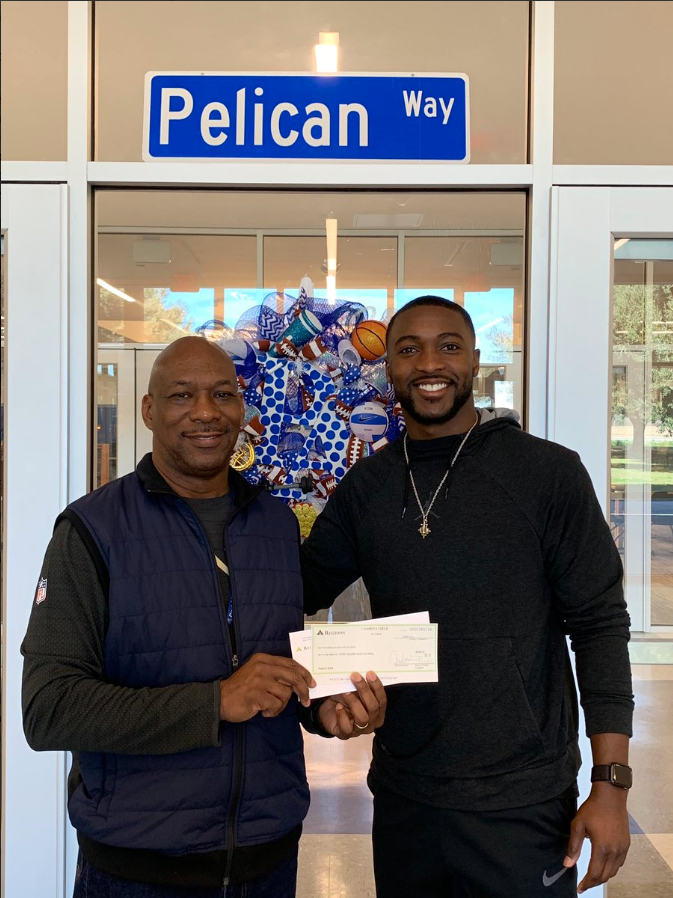 Following a playoff run with the Houston Texans, Port Allen High School alumnus Andre Hal came home to give back to his alma mater.
The defensive back made a donation for a digital scores table in the gym. Aside from being pleasant to look at, the new scoreboard will also provide a more efficient way for local businesses to advertise.
A huge thank you to Andre Hal for giving back to his Alma Mater! After a great season with the @HoustonTexans he returned to the Pels Nest to make a donation for a new digital scores table! #OnceaPelalwaysaPel #PelicanWay #PelicanPride @Drehal29 @_PAHSAthletics @WestSideJournal pic.twitter.com/uUMPoxqTqh

— Port Allen High School (@PortAllenPels) January 13, 2019
"We're excited about it," said Port Allen High principal James Jackson. "I give all the credit to coach (John) Williams and coach (Robyn) Butler." They got in touch with Andre. The next week, he came down to the school and presented us a check for $6,000.
"He (Hal) does so much for the community," Jackson continued. "Everything he does is so genuine. We had to ask him to take a picture. He wasn't doing it for publicity. We appreciate him."
Jackson said the school is starting a Port Allen High capital campaign, which will roll out in the spring, with the goal of acquiring certain items for the school and a digital scoreboard was on the list. Other items include backdrops and tablecloths for signings as well as new padding on the walls to protect the physical education students.
Jackson said Hal wasn't the only prominent athlete from Port Allen to help out in some way. Former New Orleans Saints defensive back Tracy Porter funded renovations to the boys' locker room.
Auxiliary Gym update
The auxiliary gym at Port Allen High is coming along, according to Jackson. He said he expects the gym to be ready in a few months.
"We're really really excited about it," Jackson said. "We've been doing walkthroughs about once a week to check on things."
He said the new gym won't replace the main gym currently in use but will allow multiple teams to have a court to practice on regardless of the sport.
"Our coaches do a great job of sharing the space we have, but the auxiliary gym will allow both teams to have a court to practice on," Jackson said. "It will also allow us to have tournaments where we'll be able to host more teams."
Jackson said the new gym won't have as much seating as the main gym and he expects the auxiliary gym to be used specifically for sporting events.