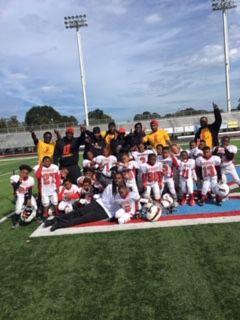 The Panthers 6U squad finished with a record of 10-1 by defeating the Smothers Academy in the championship game in overtime 6-0.
The team competes in the Youth High School Football Preparatory League of Louisiana. The team consists of kids ranging from 5 to 7 years old.
It was the second time the Panthers beat Smothers Academy after a 12-0 win in regulation.
"They played hard," said assistant coach Nolan Dehon. "It was a tough fight. The coaches would like to thank all of the parents."
Terrence Gay was the head coach. Other coaches aside from Dehon included: Gerald Jenkins, Kentrell Joseph, Damian Brooks, Ryan Joseph, Justin Russ, Erin Woods, Jermaine Robinson Sr. and Marvin Cobb.