Port Allen came up just short in its bid for the first state championship in school history.
Rayville outlasted the persistent Pelicans, 61-48 to win its second straight state championship at the Allstate Sugar Bowl/LHSAA boys basketball tournament last Friday night.
Port Allen did not suffer the same fate as the rest of Rayville's playoff opponents. The Hornets averaged 118 points per game heading into the championship game with an average margin of victory of over 50 points.
However, Port Allen head coach Derrick Jones said he's not into moral victories, but said he was proud of his team's performance and that the future is bright for the program.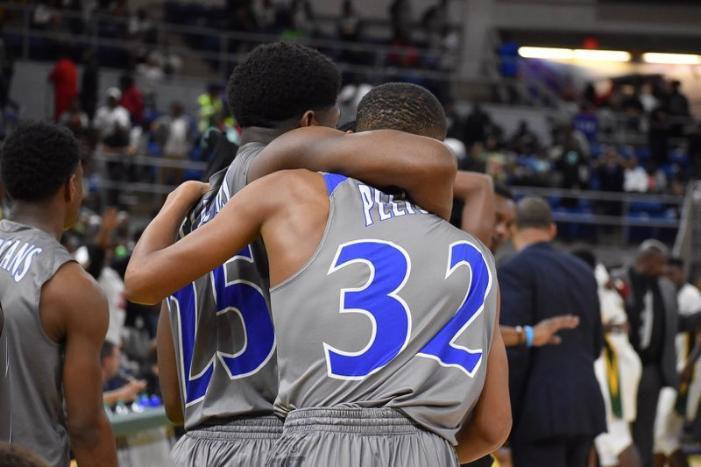 "Wasn't our best effort by far defensively or offensively today," Jones said. "They did a great job of trying to execute the gameplan we put in. They played their hearts out. Obviously, Rayville is really really good and to beat a really really good team, you can't have careless turnovers. You can't make multiple mental mistakes because they capitalize on it.
"The future's bright," he added. "Imma miss my seniors. I was only with them for a short time. I only had them for two years but they gave me everything they had almost every day for two years."
The 61 points scored from the Hornets was a stark difference from the 115 points scored in a semifinal rout of Ville Platte.
Rayville head coach Damon West said his team had to find another way to win with the way Port Allen kept things close.
"It let us know we can win in different ways," West said. "We didn't have to score 100 to win the game and that's what it's all about. If you can't win but one way, quite naturally somebody will knock you off and we found a way to win differently."
Title-game most outstanding player, Mylik Wilson scored 18 points to lead the Hornets. JaMichael Wilson was in double figures with 15 points.
Rayville led 19-12 at the end of the first quarter, but Port Allen kept things close. Gerrod Franklin's three cut the deficit to 23-20 with 3:52 before halftime and Jalen Knox's putback at the buzzer sent Port Allen into the halftime break facing a 33-28 deficit.
The third quarter belonged to the Hornets. Rayville outscored Port Allen 18-7 in the period. A layup by Jalon Qualls with nine seconds left gave Rayville a 51-35 lead heading into the fourth quarter.
The Pelicans kept fighting back. Billy Ferguson's three cut the deficit to 56-46 and Franklin's layup brought Port Allen to within eight at 56-48 with 1:37 remaining.
Franklin led Port Allen with 14 points in his final high school game. Knox added 10 points.
"This season has been very up and down," Franklin said. "I love my brothers. This season we showed (people) a lot. "I'll miss everybody."